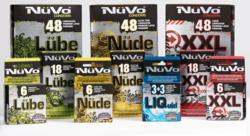 Oceanside, NY (PRWEB) September 07, 2012
Innovative brand NüVo Condoms has announced today the return of the highly successful "NüVo Quarterback Protection Plan". For the 2012 season, NüVo Condoms has stepped it up a notch. This season, besides giving a supply to the QB that is sacked the most each week, NüVo will also give a donation of 1,000 condoms to that city.
All NFL quarterbacks should know that if your team can't keep you safe, NüVo Condoms will keep your QB and your city protected. NüVo Condoms has partnered this season with AIDS United to help with the national distribution.
"We're excited to partner with NüVo Condoms. I'm thrilled to be giving our quarterbacks "extra protection," said Vignetta Charles, Senior Vice President, AIDS United. "With our network of partners, we can use the impact of powerful defensive plays that sack a quarterback into opportunities for access to one of our most impactful defenses against the spread of HIV—condoms."
NüVo Condoms is the challenger brand that is making a bang --literally-- in the condom industry. The urban, edgy packaging promotes NüVo's message of having a positive, fun yet responsible approach to sexuality and sexual relationships. NüVo is committed to making an impact on unwanted pregnancy and the recent rise in STD's by making condoms available to anyone who needs them at a competitive price.
The NüVo Protection Plan helped NFL quarterbacks, who got sacked the most every week, stay safe and protected with a free supply of NüVo condoms. Alex Smith, of the San Francisco 49er's, took the title as the winner of the 2011 NFL NüVo Protection Plan, since he was the most sacked quarterback in the NFL.
NüVo Condoms deploys a number of programs to get the word out about having fun in a safe and responsible manner distributing over 400,000 free condoms in 2011 alone. Additionally, NüVo has helped celebrities and athletes such as Justin Bieber, Ashton Kutcher, Jim Thome, Tom Brady and more, stay protected during their "times of need" by providing a generous supply of NüVo Condoms.
NüVo Condoms can be purchased in Duane Reade stores, select Walgreens stores, and regional retail drug chains and online at CVS.com, drugstore.com and amazon.com.
For more information about AIDS United. Please visit:
http://www.aidsunited.org