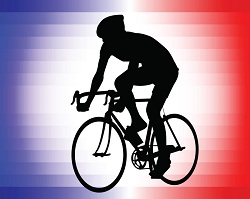 Our goal is to put an end to hit-and-run incidents, that have become an epidemic in California
Newport Beach, CA (PRWEB) September 07, 2012
The California bicycle accident lawyers at BISNAR CHASE are inviting members of the community to come forward with information about a hit-and-run car accident in Newhall, which left a 54-year-old female bicyclist seriously injured. According to a September 4, 2012 news report in The Signal, the injury collision occurred at Orchard Village Road and Dalbey Drive late morning on September 4, 2012.
The report stated that the cyclist was riding her white 10-speed bicycle north on Orchard Village Road when a blue or gray Honda Civic or Accord made a left turn and struck her. The driver did not stop and the Honda was last seen traveling eastbound on Dalbey. Officials have said that the suspect vehicle likely has damage to its front and/or hood. The report states that the cyclist was transported to a local hospital with multiple injuries including head injuries. Anyone with information is asked to contact Los Angeles County Sheriff's Department Detective Jeff Maag at 661-799-5112.
BISNAR CHASE's Hit-and-Run Reward Program offers a $1,000 reward for tips leading to the arrest and felony conviction of this and any other hit-and-run driver. These anonymous tips may be provided through the WeTip crime hotline, 800-6-Hit-N-Run (800-644-8678).
According to California Highway Patrol's 2010 Statewide Integrated Traffic Records System (SWITRS), there were 147 fatalities and 19,009 injuries reported as a result of hit-and-run collisions statewide. In Los Angeles County, traffic accidents claimed 530 lives and caused 50,513 injuries in 2010.
"My thoughts and prayers are with the seriously injured victim of this hit-and-run crash," said John Bisnar, founder of BISNAR CHASE and the Hit-and-Run Reward Program. "I'm relieved to hear that this bicyclist did not suffer life-threatening injuries."
Bisnar said the Hit-and-Run Reward Program is intended to be a partnership between the law firm and the community to help law enforcement apprehend hit-and-run drivers. "It is our civic duty to help find these drivers and hold them accountable," he said. "There is absolutely no excuse for leaving someone bloody, injured and lying on the street. It's outrageous! Our goal is to put an end to hit-and-run incidents, that have become an epidemic in California."
About BISNAR CHASE
The San Fernando auto accident attorneys at BISNAR CHASE represent people who have been very seriously injured or lost a family member due to an accident, defective product or negligence. The law firm has obtained nearly two hundred million dollars in settlements and verdicts for their clients by winning a wide variety of challenging personal injury cases involving car accidents, work place injuries and defective products, including defective automobiles. Additionally, the law firm represents people who have been seriously injured or lost a family member due to drunk driving and hit-and-run collisions.
If you need help with your auto accident, call Bisnar | Chase at 800-561-4887 or fill out the free evaluation form at http://www.bestattorney.com
Attribution: http://www.the-signal.com/section/36/article/74843/