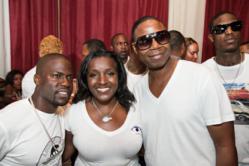 Every year we continue to serve both our corporate and celeb/athlete clients with quality engagements that benefit their brands
Atlanta, GA (PRWEB) September 06, 2012
2012 has proven a monumental year for Insights Marketing & Promotions. Under the leadership of President Keshia Walker, the marketing and promotions company hosted major engagements during Super Bowl, NBA All-Star, CIAA and Essence Music Festival weekends. In addition to creating signature events during the top nationally recognized weekends and at the some of the most nationally recognized properties, Insights worked a select group of corporate clients including: COVERGIRL, TBS/TNT, Grey Goose, NBC and Bombay Sapphire to facilitate memorable events, promotions and activations.
In 2012, Insights Marketing & Promotions hosted events featuring comedian/actor Kevin Hart, actors Anthony Anderson, Tempestt Bledsoe, Terrence J, Russell Hornsby and Laz Alonso. Insights also worked with R&B platinum star R. Kelly, hip-hop artist Future, hip-hop pioneer Doug E. Fresh and legendary deejay Biz Markie. Insights Marketing & Promotions has consistently lead the market in corporate sports marketing, promotions and special events catered to the urban and professional consumer segments, however, 2012 has shown the company breaking internal records and rising to new standards.
The year kicked off with an exclusive invite-only event surrounding Super Bowl weekend. A sports enthusiast at heart, Walker looks for opportunities to connect with sporting events, especially as much of her clientele are professional athletes. Insights followed up with social events surrounding NBA All-Star and CIAA weekends boasting over 5,500 attendees. Later in the year, the company hosted the Funk Fest Tour, with stops in Miami, Atlanta, Orlando, Jacksonville and Memphis and musical acts including New Edition, Erykah Badu, Charlie Wilson, Whodini and El Debarge. The Funk Fest Tour was in conjunction with Comcast, FORD, Coca-Cola and Miller Coors.
Since the company's inception 14 years ago, Walker has capitalized on a niche market of merging celebrities with high quality brands to create memorable themed events for consumers. "We've been able to service our celebrity and athlete clients well by attaching their names to brands that have reputations for excellence," Walker explains. "It offers the brands a face to connect with consumers, and in turn allows the celebrities to connect with an audience outside their demographic. It's a win/win equation." Walker's 19 year marketing career has consistently targeted the African-American and Hispanic consumer segments, making her a viable resource for brands who want to focus their marketing efforts towards an ethnic demographic.
In addition to partnering celebrities with brands for national tours, signature special events and sponsorship activations, Insights serves their extensive athlete clientele by coordinating charity driven events for their non-profit initiatives. In June, Insights coordinated a football camp for former Super bowl champ Jonas Jennings. The camp hosted over 500 youth in Jennings' hometown of College Park, GA. During the upcoming holiday season the company is slated to host several charity functions on behalf of their MLB, NBA & NFL clients' foundations.
Walker insists the year has been a high mark for the company and she looks forward to finishing the year just as strong. "We've had a great eight months, but we have so much more coming up the pipeline," Walker says. Insights Marketing & Promotions is currently gearing up for the REUNION tour that will start in the fall and touch 15 colleges and universities. Insights Marketing & Promotions is also confirmed to host events surrounding the NBMBAA and NMSDC conferences.
"Every year we continue to serve both our corporate and celeb/athlete clients with quality engagements that benefit their brands," Walker says. "Our reputation for providing quality, memorable programs, tours and events that deliver results for our clients has given Insights an edge over competitors."
###