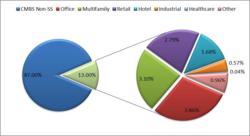 Nationwide, USA (PRWEB) September 07, 2012
Like other mortgage backed securities, a commercial mortgage backed security is created when a bank takes a group of loans (commercial loans) that it has on its books, bundles them together, and sells them in a securitized form as a series of bonds to investors. These bonds vary in yields and are assigned credit ratings, by nationally recognized agencies, ranging through the various investment grades (AAA, AA, etc.). These bond ratings play an important role when assigning the tranches (bonds) to senior or subordinate levels where the most senior tranches typically receive repayment of principal first and therefore have the lowest risk.
The CMBS industry has a few main participants, particularly the Primary Servicer, the Master Servicer and the Special Servicer. The Primary Servicer is the company that monitors or manages the loan. They could be the originator of the loan or just a third party but primarily they maintain direct contact with the borrower. The Master Servicer then sub-contracts out loan administration duties as well as see the loan through to its maturity unless a default occurs. The Master Servicer also manages the flow of payment and has an ongoing interaction with the Primary Servicer. Once a default occurs or a loan is judged to be in imminent default the loan is then transferred to a Special Servicer. The Special Servicer is then responsible for the management and resolution of the defaulted loan. They also take over all authority for the loan. Currently, Special Servicing makes up 13% of the entire CMBS market and is broken up as shown in this graph.
When a Special Servicer first gets a loan delegated to them, they usually know nothing about the loan, the situation, or the property itself. Because of this, Special Servicers typically follow a process, inorder to thouroughly understand the situation, in which one of the most important steps is the due diligence on the property site itself.
Many companies are learning of how WeGoLook® steps in to assist with due diligence. Each asset and situation is unique and WeGoLook's personalized reporting templates are customizeable to the requirements of the Special Servicer. WeGoLook's over agents are dispatched quickly to the property and will supply the Special Servicer with the customized and detailed reports necessary to adequately inform them of the property's condition, location, occupancy and much more. WeGoLook is able to perform inspections for any type of property.