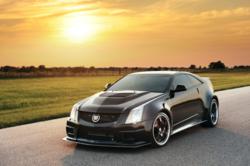 The Hennessey VR1200 Twin Turbo is the most powerful four seat vehicle available on the market today.
Sealy, TX (PRWEB) September 06, 2012
Today, Hennessey Performance (HPE) unveiled the company's latest creation – the 2013 Hennessey VR1200 Twin Turbo Coupe. Based on the Cadillac CTS-V Coupe, the team at HPE removes the 556 bhp factory supercharged V8 and replaces it with a de-tuned version of their Venom GT supercar engine. The VR1200's 7.0L twin turbo V8 engine produces 1,224 bhp @ 6,400 rpm making the Hennessey Coupe the most powerful four-seat vehicle available on the market.
"I've owned several Cadillac CTS-Vs over the past few years, all of them modified to 700+ hp", said company founder, John Hennessey. "But I wanted to build something really special and much more powerful. One day I was testing our 1244 hp Venom GT and thought that it would be fun to have a larger version of our supercar with seating for 4-5. That's how the idea of the VR1200 Twin Turbo came about".
The VR1200 produces a massive amount of torque with 964 lb-ft of twist going to the rear wheels. To harness the power, the team at HPE designed a carbon fiber wide body includes wider fender flairs allowing much wider tires. How wide? Try a pair of 345/30-YR20 Michelin Pilot Super Sport tires in the rear matched with 275/30-YR tires up front. The Hennessey CarbonAero wide-body upgrade widens the rear of the vehicle by 7 inches and the front by 3 inches. Hennessey's 3-piece wheels from HRE help put the rubber to the road with 20x13 inch rims on the rear and 19x10 inch rims up front. A full front and rear Brembo brake upgrade gives this beast the stopping power needed to decelerate from 200-plus mph speeds.
Other Hennessey upgrades include: Lowered suspension system, upgraded driveline components and a special dual clutch Centerforce clutch. Finally, the VR1200 has a fully bespoken interior appointed with the highest quality leather and Alcantara material with custom stitching.
The cost for the complete 2013 Hennessey VR1200 Twin Turbo comes in at $295,000 USD plus shipping costs. This includes the cost of the base Cadillac CTS-V. HPE plans to build just twelve examples for the 2013 model year. The VR1200 Twin Turbo is available as a 2-door Coupe or 4-door sedan as well as the ultra exclusive Sport Wagon.
Three of the twelve vehicles have already been spoken for. Two of which are going to Hennessey's exclusive dealer for the middle east – KAR Performance.