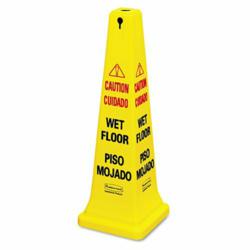 "We sent our company's logo to Creative Safety Supply and they were able to incorporate the design on our caution signs at no extra cost out of our pocket."
Lake Oswego, OR (PRWEB) September 08, 2012
Safety concern is a number one priority for any business that strives for productivity and greater profits. Creative Safety Supply has a variety of wet floor signs and one of the newest products being offered is the four-sided caution safety cone. The caution cone is easy to read by the bright yellow color and the cone is four-sided which makes it easy to read no matter what direction pedestrians are coming from. This is a perfect tool for making the workplace visually manageable which is part of any 5s safety program. Another feature is the cones are stackable for easy transport and storage. Alerting employees and visitors of a possible hazard area will make sure no unwarranted accidents happen. Keeping safety numbers up and accidents down, will assure productivity is maintained which means more profit for the business. The four-sided caution cone can be printed in both English and Spanish. And due to the bright yellow color and large print, the message can be read from 40 feet away.
The four-sided caution cone and all other wet floor signs furnished by Creative Safety Supply are made out of lightweight plastic that is great for transporting and will hold up to harsh conditions such as forklifts bumping into them. The signs are 27" in height which is more than enough to warn pedestrians, near and far. Creative Safety Supply's top seller right now is the Slippery When Wet Floor Sign that is very affordable for any business that wants to keep the workplace accident free. Custom floor signs in any standard size and color can be specially made at no extra charge. If a business has a special image that is required with special writings, Creative Safety Supply can accommodate those requests. As one safety director of a small business commented, "We sent our company's logo to Creative Safety Supply and they were able to incorporate the design on our caution signs at no extra cost out of our pocket."
More information about caution signs of all types are available by visiting http://www.creativesafetysupply.com or call toll-free (866)777-1360 for answers to all your questions.