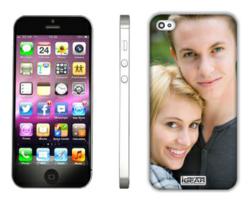 The iPhone 5 mockup is identical to the final product in size, weight, and port configuration.
Chicago, IL (PRWEB) September 06, 2012
"The mockup is identical to the final product in size, weight, and port configuration." said Jimmy Sun, President of iGearUnlimited.com. "We want to bring customized cases for Apple's new iPhone 5 to our customers as quickly as possible."
The iPhone 5 is believed to be thinner and taller than the current iPhone 4S. While it's about the same width as the previous generation iPhone, the new iPhone 5 is expected to be about 1mm thinner, slightly lighter, and will sport a larger 4" screen, running Apple's new iOS 6 operating system.
iGearUnlimited.com offers customized iPhone and iPad cases using uploaded photo artwork, or customers can choose from a stock photo library with close to 8,000 high-resolution fine art images from the world's most famous artists, including Van Gogh, Monet, Da Vinci, Rembrandt, Cezanne, and more. Using an HTML5 based online design tool, iGearUnlimited.com is among one of the only sites that allows artwork customization directly from an iPhone or iPad.
For more information about the the new iPhone 5 and available cases, visit the company's website at http://www.iGearUnlimited.com.
About iGearUnlimited.com
iGearUnlimited.com is powered by Sunrise Digital, an Inc. 5000 company established in 1988 and employs the latest digital printing technology. The company utilizes the most advanced equipment and technology, such as HP Indigo and UV flatbed presses, and digital die-cutting, to create best-in-class products. A privately-owned enterprise, the company is based in Chicago and sells products worldwide.