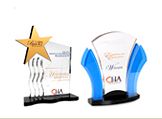 "Once again, our Creative and Design Teams continue to amaze," said Denzil Quick, Director of Marketing for Sizzix.
Lake Forest, California (PRWEB) September 07, 2012
Sizzix, the industry leading manufacturer of die cutting and embossing products, was recently recognized by the Crafts and Hobby Industry by being awarded with the prestigious Golden Press Kit Award at the Craft and Hobby Association (CHA) Summer 2012 trade show on July 16-19, 2012.
The award winning kit highlighted some of the upcoming holiday-themed die cutting products that crafters can expect to purchase from Sizzix's Holiday 2012 seasonal portfolio. This includes the Ornament #2 Set that has the 4-pack Framelits Die Set paired with the Textured Impressions Embossing Folders that were used to make one of the new and exciting Holiday projects.
The kit also included the new and exciting TalkingTag™ Audio Message Label that can be scanned with any smart phone to record up to one minute of personalized audio for affixing to any cherished keepsake. Sizzix believes that consumers will love this product as it compliments their craft projects and takes memory making and keepsakes to an entirely new level.
"Once again, our Creative and Design Teams continue to amaze," said Denzil Quick, Director of Marketing for Sizzix. "Now that they've unleashed this exciting first glimpse of our upcoming Holiday 2012 portfolio, I can't wait to get our die cutting and innovative memory-capturing technology products into the hands of our crafters' customers to use to design their craft projects."
About the Craft & Hobby Association
The Craft & Hobby Association (CHA) is an international not-for-profit trade association
consisting of thousands of member companies engaged in the design, manufacture,
distribution and retail sales of craft products worldwide. For more about CHA, the value of membership, or its award-winning Conferences & Trade Shows, please visit http://www.craftandhobby.org.
About the Sizzix Brand
In 2001, crafters were clamoring for a better way to express their inner creativity with perfectly cut shapes from materials ranging from cardstock to fabric and many things in between. They received their answer with the Sizzix die cutting and embossing system. With many machines, dies and embossing tools specifically designed for every level of crafter, Sizzix continues to be the premier creative resource for scrapbooking, card and jewelry making, décor, altered art, quilting, appliqué and more. Experience the brand today at http://www.Sizzix.com.