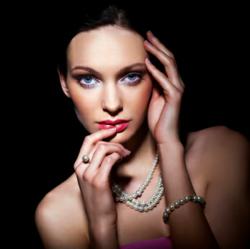 Don't let your footwear ruin your good time.
(PRWEB) September 11, 2012
With a new season weeks away, Rodeo Drive Resale (http://www.shopRDR.com), premier reseller of 100% authentic guaranteed bags and fashions including discount Gucci heels, St. John Knits, and Tiffany & Co. jewelry, shares style tips offered by famous fashionistas Chloe Dao and Kelly Osbourne, while contributing a few of their own.
1) REMEMBER THE LITTLE THINGS: Designer accessories, such as a luxury belt or a pearl necklace, are simple ways to make an outfit shine. Have fun experimenting with pieces such as rings, earrings and bracelets to discover the perfect outfit/accessory combination. While accessories are wonderful, Rodeo Drive Resale co-founder Raya Jaffer was careful to point out that, when it comes to the bling, less is more: "A large, blingy necklace with a chunky bracelet is too much. Your accessories should never compete."
2) LAYER YOUR LOOK: "Cardigans for me are like your BFF, your best friend forever, because they're season-less, they're great when you want to have nice coverage, look stylish and it will always fit because it's made out of knit!" Designer and "Project Runway" winner Chloe Dao said in an interview posted on Livewellnetwork.com. "The classic cardigan can be sexy, stylish and even slimming. There's one for every body type and every occasion." For those looking for the best deals in designer cardigans, stores such as shopRDR.com give shoppers the option to buy and sell luxury designers with savings on pre-owned Christian Dior, Yves Saint Laurent, and more.
3) LOVE THY FEET: "Always pack a pair of ballet flats in your handbag because by the end of the night your feet are killing you," Osbourne, co-host of the E! program "Fashion Police," told the Associated Press in an August 28 interview. "You want to keep going but you can't. I can't tell you how many times I've had to go home early because my feet hurt and I haven't had a pair of shoes to change into. Don't let your footwear ruin your good time."
4) GO HOLLYWOOD: Besides protection from the sun, the right pair of shades add to the "cool factor" to even the most basic outfit. Sunglasses come in a variety of styles, so finding the right pair requires a bit of patience and understanding of which frames best compliment your face: Large, round frames work well with a square-shaped face, while those with round or oval faces should opt for shades with a horizontal frame.
Rodeo Drive Resale (shopRDR.com) has built a reputation of providing amazing deals on handbags, clothing and accessories from the top designers of upscale fashion. The company offers a 100% guarantee of authenticity on each item sold, and works daily with a network of clients looking to buy, sell, or for consignment of their luxury goods.
ShopRDR.com loves high-end fashion, and believes finding a high quality, classic piece should be an easy, enjoyable -- and most importantly -- hassle-free shopping experience. For the finest in Louis Vuitton, Chanel, Prada, Gucci, St. John Knits, Christian Louboutin, Tiffany & Co. and more, visit RDR online at http://www.shopRDR.com or call 1-888-697-3725.
Also find shopRDR at:
Facebook: facebook.com/shopRDR
Twitter: twitter.com/shopRDR
YouTube: youtube.com/ shopRDR
Pinterest: pinterest.com/shopRDR
Rodeo Drive Resale (shopRDR.com)
1-888-697-3725
service(at)shopRDR(dot)com