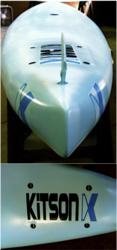 We are excited to bring out high tech carbon fiber paddle boards to the competitive racing aspect of the sport
Olympia, Wash. (PRWEB) September 08, 2012
The next few months for the employees of Kitson Boards will be spent traveling to and displaying their carbon fiber surfboards and SUPs at various Paddle Board events. Two of the events in particular, both in California, will be where the KB team will debut their entire SUP line, including their new Yoga Paddle Board.
The first event which takes place in Dana Point, Calif. later this month followed by the San Francisco Bay area SUP race in October will give Kitson Boards some much needed exposure to their niche audience, the paddle boarders themselves.
"We currently do a lot of reaching out via the phone or emails to other surf professionals," said President of Kitson Boards, Michael Kitson, "But other than a few appearances so far at some Pacific Northwest events, this really will be the first time we will get to spend some time with the people who have a passion for this sport."
Kitson along with avid surfer and Kitson Boards design engineer, Travis Dodge and their in-house PR Director Heather Hoskins will attend the events and be the faces of the brand.
"We're so ready to be a consistent presence in the surf world." said Dodge. "We are excited to bring out high tech carbon fiber paddle boards to the competitive racing aspect of the sport."
Founded by Michael and Denise Kitson, Kitson Boards, LLC headquarters is located in Olympia, WA. Kitson Boards are all crafted out of the ultra durable and long lasting carbon fiber material. All production of surfboards, paddle boards and wakesurf boards, as well as the people behind the brand are based in North America. Kitson Boards prides itself on outstanding customer service and only the finest in recreational boarding and accessories. Free shipping is available throughout the continental USA.