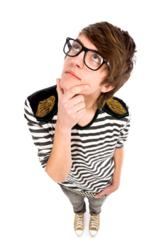 We see speedy, enthusiastic customer service as our key differentiator going forward.
Grand Rapids, MI (PRWEB) September 11, 2012
In the black and white world of office supplies, the brainiacs at SupplyGeeks are adding some color. Since their web site launch back in May, they have established a reputation of providing expert product knowledge and outstanding customer service. In addition to over 35,000 products such as binders, clipboards, rubber bands, and office furniture; the SupplyGeeks recently dove into the school supply sector and launched their back to school sale with Box Tops for Education.
Coming off the expansion into school supplies, the SupplyGeeks have reported strong August sales; showing a 29% percent revenue jump from July. Office products such as toner cartridges, pens, pencils, staplers and dry erase boards also were hot in August. The SupplyGeeks anticipate these key office products and school supplies to stay hot into the final quarter of the year.
"We are very excited with the gains that we have seen in both the office supply and school supply sectors," said Director of E-Commerce Eric Houtkooper. "Offering an even larger product selection coupled with our product knowledge and customer service has proven successful. So far, feedback from our customers has been overwhelmingly positive. We see our speedy, enthusiastic service as a key differentiator going forward."
The rollout of the SupplyGeek Office Blog has also proven to attract the attention of their audience. The blog features upbeat advice, product spotlights, and short videos in hopes to make work more productive (and fun.) In just over a month, the blog has helped fuel traffic growth on the site as well as generate interest in the office supply sector.
With a hot August behind them, the SupplyGeeks are truly ones to watch in the crucial holiday shopping season. Without providing specifics, the SupplyGeeks hinted that they are gearing up for a strong fourth quarter. "We know that more people are equipping their home based office with top quality products. We think that the SupplyGeeks can be their go-to place for stocking their work area. Plus, we have unique office oriented gifts in mind for holiday shoppers. Decorating and outfitting your home office can be fun," said Eric Houtkooper.
About SupplyGeeks.com
Headquartered in Grand Rapids, Michigan, SupplyGeeks.com is an online seller of office supplies, business furniture, tech gear and more. Backed by a parent company with over 60 years of experience in office supplies, this innovative company aims to make your work experience more efficient, and whenever possible, more fun. SupplyGeeks.com Director of E-Commerce, Eric Houtkooper, was previously President of PupLife Dog Supplies and has held technology posts at the Chicago Board of Trade, CNA Insurance and the California based vertical search startup EoExchange.
For more information about SupplyGeeks, please contact Eric Houtkooper at ehoutkooper(at)supplygeeks(dot)com.