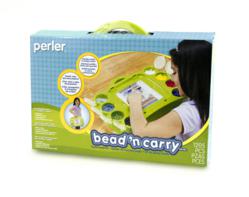 Clifton, NJ (PRWEB) September 10, 2012
Parents asked, and Perler answered! The days of strewn beads and messed projects are gone with the launch of Perler Bead 'n Carry.
Each kit contains a desk-type work tray that perfectly fits the included clear square pegboard, as well as containers complete with 1,200 Perler Beads (and capable of holding more than 2,000). Kids can start a project, and then close the plastic tray that covers both the bead containers and the workspace, holding projects perfectly in place and eliminating the chance for spilled beads.
Designed with a handle just the size for kids 6 and up, the Bead 'n Carry can even travel without fear of damaged projects. Each kit retails for $14.99 and is available at Jo-Ann Fabric and Craft stores, Amazon.com, Mills Fleet and Perler.com. For more information, images or project samples, please contact Misty Huber at mhuber @ eksuccess (dot) com.
About Perler
Perler the brand made its name as a creative and educational brand for children, providing activities that assist in the development of hand-eye coordination, fine motor skills and color recognition. Perler is a brand within EKSuccess Brands.
About EKSuccess Brands
Established in 1978, EKSuccess Brands is one of the country's leading creative consumer products companies. Its diversified portfolio includes more than 10,000 inspirational and creative products covering paper crafting, needle crafting, stamping, jewelry making, kids' crafts, painting and more. Popular brands include K&Company™, Inkadinkado®, Dimensions®, Jolee's Boutique®, Sticko®, Perler®, Martha Stewart Crafts™ and American Girl Crafts®. EKSuccess Brands is a division of Wilton Brands Inc. For more details visit http://www.eksuccessbrands.com. Dream. Make. Celebrate™.
###