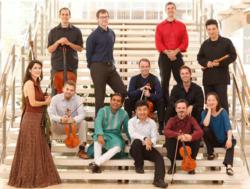 a cornucopia of musical ideas…featuring instrumental and vocal artists of almost unimaginable virtuosity
Smithfield, RI (PRWEB) September 10, 2012
The internationally acclaimed Silk Road Ensemble – a group of virtuoso musicians from India, Japan, Israel, Spain, Iran, the United States and China – will perform at Bryant University at 7 p.m. Tuesday, Oct. 9, as part of the University's President's Cultural Series.
Tickets are $20 each and can be reserved by calling 401-531-6662.
Hailed as "one of the 21st century's great ensembles" by the Vancouver Sun, the ensemble draws together distinguished performers and composers from Asia, Europe and the Americas. Since forming under the artistic direction of Yo-Yo Ma in 2000, the group's innovative artists have eagerly explored contemporary musical crossroads. The Seattle Times praised the result as "a cornucopia of musical ideas…featuring instrumental and vocal artists of almost unimaginable virtuosity." The Boston Globe has called the group "a kind of roving musical laboratory without walls."
Performers include Kayhan Kalhor, master of the kamancheh; Wu Man, called by the Los Angeles Times "the artist most responsible for bringing the pipa to the Western World"; and Sandeep Das, considered one of the leading tabla players today. NPR Music applauded this "serious all-star ensemble" for its "fabulous energy" at globalFEST in New York earlier this year.
The Silk Road Ensemble has recorded five albums. The most recent, Off the Map, was nominated for a Grammy Award for Best Classical Crossover Album in 2011.
Participating in the Bryant performance are Silk Road Ensemble members Jeffrey Beecher, contrabass; Mike Block, cello; Nicholas Cords, viola; Sandeep Das, tabla; Haruka Fujii, percussion; Jonathan Gandelsman, violin; Colin Jacobsen, violin; Kayhan Kalhor, kamancheh; Cristina Pato, gaita; Shane Shanahan, percussion; Kojiro Umezaki, shakuhachi; Wu Man, pipa; Wu Tong, sheng, bawu.
Bryant University is located at 1150 Douglas Pike, Smithfield, RI.