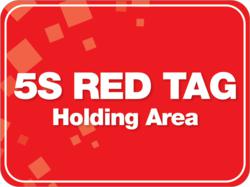 "We were able to kick-start our lean and 5s programs instantly by using the red tag system. The pre-made signs are easy and affordable."
Lake Oswego, OR (PRWEB) September 09, 2012
The red tag system is the way to make sure a business is in compliance with the 5S safety program. 5s red tags are part of the method used to identify items in the workplace and may or may not be used immediately. The tags will help answer questions such as 'What is this?', 'Should I keep it, store, or dispose of it?', and 'If I need it, how many should I keep?' One of the new products being offered through Creative Safety Supply is the Red Tag Area Floor Sign. This sign will communicate safety instructions and directional information. The signs are very durable and can withstand heavy forklift and pedestrian traffic. The signs are a peel-&-stick installation that causes no hassles or downtime from productivity. The signs are affordable and custom floor signs in any standard size are available through Creative Safety Supply at no extra charge. Any business that is proud of their name or logo can easily have their image printed on the signs.
Another related red tag area sign offered through Creative Safety Supply, is the Red Tag Area Wall Sign. It also complies with OSHA and lean safety program standards. It is made of industrial durable material and can withstand any type of harsh environment. It comes mounted on a durable 3mm PVC signboard and is ready to mount on the wall of the workplace. As part of the safety signs offered through Creative Safety Supply, a business can save up to 75% when compared to buying from an outside source. As one safety lead person commented, "We were able to kick-start our lean and 5s programs instantly by using the red tag system. The pre-made signs are easy and affordable."
Visit http://www.creativesafetysupply.com for more information about red tag systems and other related safety products. Or call toll-free (866)777-1360 and talk to one of the knowledgeable customer service reps that can answer all your questions.