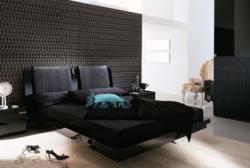 Rossetto Modern Italian Bed
Los Angeles, CA (PRWEB) September 07, 2012
For years, DA Stores has partnered with some of the best known and respected home furnishings manufacturers. Now it announces it will be a distributor of Rossetto Italian Furniture as part of its new partnership with the Italian furniture company.
Citing similar approaches to customer satisfaction and commitment to quality, DA Stores says this latest business relationship can only enhance the shopping experience for its growing clientele.
Rossetto Italian Furniture places an emphasis on creating visually pleasing modern bedroom furniture, dining collections and home decor accessories. With artistic arcs, straight lines and other stunning design elements, Rossetto has built its reputation by raising the bar and setting new trends. Since offering its modern furniture to U.S. consumers, it's certainly found loyal customers who appreciate the affordable pricing and unique approach to design, including the growing demand of European platform beds.
DA Stores has quickly rose in popularity and enjoys a stellar reputation for providing superb customer service and by building an eclectic partnership with the world's most renowned furniture manufactures. The company began expansion efforts in early 2012 by adding strategically placed remote warehouses, thereby ensuring faster turnarounds for customers around the nation.