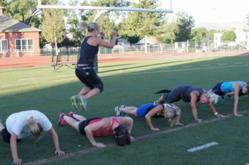 Gold's Gym in Grand Junction, CO is implementing a new program called "Energeia Boot Camp" on Sept. 8th at 8:00am at Stocker Stadium This is a 60-minute total body workout that produces real results to completely transform your body
(PRWEB) September 07, 2012
In John Maxwell's book, Encouragement Changes Everything, Maxwell discusses an experiment performed with and without the support of others. First, the participant, by himself, was instructed to hold his leg in a bucket of ice water for as long as possible as time was kept. Then, the participant repeated the test, only this time with a friend there for encouragement. The results of this experiment show that people working together toward a common goal are able to endure the pain twice as long as if they are to do it by themselves. So, the question at hand is, "Why are you still exercising by yourself?"
Group Exercise is Better Exercise
Group dynamics create more results than individual. The benefit of having a group together can be rewarding especially if there is an experienced trainer leading. Experience is key because someone who has never been involved in rigorous training will not understand the pain of building endurance and muscle.
People these days are looking to experience a workout with other people and see quantifiable results ... and there is hope. Gold's Gym in Grand Junction, CO is implementing a new program called "Energeia Boot Camp" on Sept. 8th at 8:00am at Stocker Stadium This is a 60-minute total body workout that produces real results to completely transform your body, The innovative new program includes running, stair climbing, and a variety of athletic conditioning drills to increase cardiovascular strength and endurance. Diversity is incorporated to achieve muscle confusion for maximum results. They even guarantee that the program is designed to meet the needs of every participant, and every fitness level. Now is the perfect time to give it a try because the class this Saturday, September 8 will be free to everyone.
Understanding the dynamics of working together as a team, the Gold's Gym in Grand Junction, CO is teaming up with BlueFinn, a local Grand Junction social media company, to spread the word to people about this new workout opportunity, and the free trial, through word of mouth and their Facebook page.
Based on the scientific results of group encouragement, Gold's Gym is committed to helping each of their members reach and maintain a level of fitness. They do this through individual training plans, encouragement from a personal mentor, and capitalizing on each member of a workout group encouraging one another to reach a level that would not be individually possible.