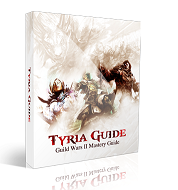 (PRWEB) September 06, 2012
The release of Guild Wars 2 has led to a universally positive response, with more players picking up the game than possibly imagined. In fact, the creators of Guild Wars 2, ArenaNet, recently suspended sales of the digitally-distributed game due to higher than expected demand leading to compromised server stability.
Guild Wars 2 takes place in the imaginary world known as Tyria, where players can level up their professions from levels 1-80 in order to get stronger to take on tougher enemies and ultimately culminating in a battle with the Elder Dragons as well as with other players.
Given the competitive nature of Guild Wars 2, many players have been looking for methods to gain an advantage over one another through advanced strategies and leveling tactics. According to a recent review from StrategyGuidesHQ.com, Tyria Guide was created to provide players with the leveling builds and strategies they need to level up more efficiently than their friends.
For players already at the level cap, the creators of Tyria Guide have come up with builds and tactics that players can use for "player versus player" battles, which pits human controlled players against each other. While player versus player is very popular in Guild Wars 2, it is also considered one of the more difficult game scenarios to participate in because when players fight each other, for every winner, there is another real player that has to lose.
In addition to helping players in PvP, the makers of Tyria Guide have also created a variety of crafting and quest guides. By providing players with information on the various crafts and quests in the game, players are able to have a more complete gaming experience.
The creators of Tyria Guide have been writing video game guides for some time, creating premium strategy guides for Diablo 3, Star Wars The Old Republic, TERA Online, and Rift: Planes of Telara. More details on Tyria Guide are provided at StrategyGuidesHQ.com.