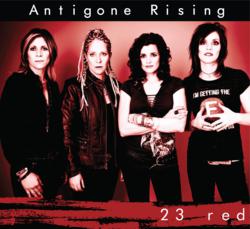 Once again, Antigone Rising has proved beyond a shadow of a doubt that women really can do it all — write meaningful lyrics, successfully master their instruments, and sing in such a way that makes listeners hang on their every note.
Londonderry, NH (PRWEB) September 10, 2012
ANTIGONE RISING, the all female Country/Rock band, will be performing at Tupelo Hall in Londonderry, NH on September 21, 2012, as part of the International Day of Peace 2012: Sustainable Peace for a Sustainable Future. The band is recently back from representing America in the Middle East as Arts Envoys for the U.S. State Department. During their trip, Antigone Rising performed in Jerusalem, Tel Aviv, Ramallah and other regional cities, leading community outreach workshops and making music with Israeli and Palestinian musicians demonstrating once again that all cultures can achieve peace and understanding through good old rocking music.
ANTIGONE RISING has been on the vanguard of peace and human rights throughout its history as a band, and continues that effort in conjunction with the push4peace.org 90 day campaign which urges people around the world to "take the pledge" and reach an unprecedented one billion actions for peace in 2012. Take the pledge now: http://www.pledge4peace.org
ANTIGONE RISING exploded onto the spotlight in 2005 becoming the first band on Starbuck's Hear Music (Lava Records) with their best selling debut LP. A lineup change brought Nini Camps to the band, whose voice blends perfectly with the signature style soaring three part harmonies of founding sisters Kristen Henderson (bass /vocals), Cathy Henderson (lead guitar /vocals) and Dena Tauriello (drums), that Antigone Rising has become known and loved for. The band's latest CD, "23 Red" continues to turn heads as their themes abound with songs that speak to the full range of emotions and life. The band has opened for such acts as The Rolling Stones, Aerosmith, Joan Jett and The Blackhearts, Rob Thomas, and The Bangles, and are favorites in Festivals around the country.
ANTIGONE RISING fans from around the world can access this concert at the fan-friendly price of $3.00 at http://www.concertwindow.com/shows/antigone-rising. The show will be broadcast live promptly from 8:40 pm -9:50 pm EST. At the end of the show, at 10 pm EST, switch over to the PeaceTV site (http://www.peaceday.tv ) for the free streaming of ANTIGONE RISING'S encore and other artists participating in the International Day of Peace global streaming event.
Push4Peace's objectives are to unify and amplify the efforts of peace organizations and initiatives wordwide. Push4Peace 2012 cooperative activities will attract a massive global audience and will provide the perfect "push" for a global Call to Action.
For more information: http://www.antigonerising.com | armgmt(at)comcast(dot)net
8:40 pm EST - 9:50 pm EST
pay per view webcast $3.00
http://www.concertwindow.com/shows/antigone-rising
10 pm EST
Peace Day Global Broadcast -free
http://www.peaceday.tv