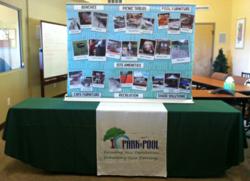 We are looking forward to the vendor fair as a way to promote ParknPool as a reliable source for not only pool furniture and park amenities but also sports equipment, club house furniture and our new line of commercial grade public playgrounds
(PRWEB) September 06, 2012
On Monday, September 10, 2012, ParknPool will travel to The National Conference Center in Leesburg, Virginia to attend the 5th Annual Associa® Vendor Fair. The vendor fair is to be hosted by the Associa® companies of Community Management Corporation (CMC), Legum & Norman, Inc. (L&N) and Select Community Services (SCS). The annual event is held as a fundraiser for Associa Cares®, the philanthropic arm of Associa®.
Associa Cares® is a national nonprofit organization that was created to assist families and communities in crisis as a result of natural and man-made disasters. Thanks to donations and fundraising events held across the country, Associa Cares® is able to provide necessary goods and services to families affected by these types of tragedies. By building successful communities for more than 30 years, Associa® has become North America's largest community association management firm, and serves its clients with local knowledge, national resources and comprehensive expertise.
The one-day vendor fair connects Associa Advantage® vendors and sponsors with Associa® members as they work their way around the various vendor displays. It is meant to be used as an opportunity for vendors, sponsors and Associa® managers to network, while having fun, and ultimately helping to raise money for a great cause.
As the leading online distributor of commercial outdoor furniture and site amenities such as picnic tables, trash receptacles, park benches, bleachers and playgrounds, ParknPool is excited about opportunities the vendor fair presents to connect with other Associa® vendors and members, and to continue to create mutually profitable relationships. "Since forming our partnership with Associa® in the Spring of 2012, we have expanded our client reach considerably," explains John Good, ParknPool's General Manager, "We are looking forward to the vendor fair as a way to promote ParknPool as a reliable source for not only pool furniture and park amenities but also sports equipment, club house furniture and our new line of commercial grade public playgrounds."
To learn more about ParknPool, their product line and their own charitable contributions visit their website at http://www.parknpool.com.
About ParknPool Corporation:
ParknPool is Veteran Owned SBE/WBE Company and is the leading online supplier of commercial outdoor furniture and site amenities such as picnic tables, trash receptacles, park benches and bleachers. ParknPool was begun in 1998 in Orlando, FL and moved their headquarters to Lexington, VA in 2005.