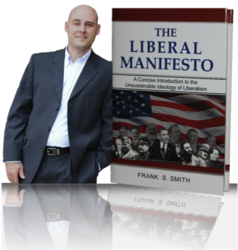 Those who claim that capitalism does not work are merely referring to a system that has been handcuffed by government regulation and taxation.
Arlington, TX (PRWEB) September 07, 2012
Socialist efforts are precipitating an environment that is forcing Americans to become dependent on government control. As a result, Americans' safety, liberty and prosperity are being compromised. Liberal elites repeatedly manufacture circumstances and manipulate American ideals, according to Frank Smith, author of the newly released book, The Liberal Manifesto: A Concise Introduction to the Unsustainable Ideology of Liberalism. He suggests that past and present examples substantiate their abuse of power and unlawful behavior. He explains that, "By disregarding the rule of law, the liberal elite undermine the protections that the law is designed to provide." He further contends that if Americans are going to prevail against this injustice, they must first understand the truth behind it.
The 2012 elections promise to be one of the most pivotal elections in America's history. With the political campaigns fully underway voters can see for themselves the exploits of many liberal candidates. Here are Frank Smith's "Top Seven Liberal Election Tactics" that Americans should watch for:
1. Ridiculing conservatives to make them appear unreasonable.
2. Falsely blaming conservative policies to create voter doubt.
3. Manipulating voters through despair and urgency.
4. Proclaiming solutions that sound good, without specifics.
5. Taking credit for everything good; blaming conservatives for everything bad.
6. Appealing to feelings when facts are not on their side.
7. Promotion of government handouts while obscuring the costs.
Frank Smith explains how many liberals resort to such tactics to effect the radical change that, with transparency, would immediately be rejected by the masses. As Barack Obama leads these spurious efforts, his reelection will mean less restraint and more radical change. In The Liberal Manifesto, Frank Smith demonstrates that the misinformation purported by President Obama and other extremists in the Democrat Party is the source of their success. He explains that, "Those who claim that capitalism does not work are merely referring to a system that has been handcuffed by government regulation and taxation." The evidence in his book also suggests that the more liberalism prevails, the more Americans suffer. Thomas Jefferson advocated for a broadly educated citizenry because he believed that well-informed citizens "are the only sure reliance for the preservation of our liberty."