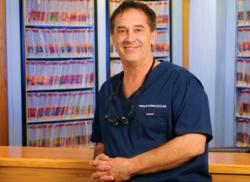 Bradenton, FL (PRWEB) September 07, 2012
Lindsay B. Eastman, DDS, MS, PA, is helping patients in Bradenton get the treatment they need for their missing teeth. When one realizes that by the time people reach the age of 74, approximately 26 percent of them don't have any permanent teeth remaining; one can see that this is a serious problem. People need replacements that will last, and dental implants have been shown to have this kind of holding power. The dental implant cost will depend on the number of implants required as well as their location and whether other dental work will be required. Dr. Eastman and his staff work with patients to find a manageable payment plan for the dental implant cost.
Dr. Eastman works with patients to surgically install the dental implants they need. Implants are made of titanium, which actually goes through the process of osseointegration, whereby it fuses with the jawbone. The crown, or visible part of the implant, is specially designed to look like a real tooth and is color matched with adjacent teeth so that it will look natural.
Because the replacement tooth is surgically implanted, it does not rely on adjoining teeth for anchors, and it is not removable. In fact, dental implants are very durable and cannot slip. They help promote the stability of the jawbone and do not promote bone loss. Bone loss is a problem when teeth are missing, so using dental implants can be a solution to that problem.
Dr. Eastman works with Bradenton patients that have missing teeth due to gum disease, tooth decay and other reasons. He helps his patients to understand the importance of replacing those teeth before the bone begins to erode or disintegrate. If the bone has already begun the process of disintegration, bone grafting may be required prior to installing dental implants. This is one of the things that can affect the dental implant cost. Each patient is worked with individually to determine the proper treatment plan. Visit http://www.bradenton-periodontist.com.
Lyndsay B. Eastman, DDS, MS, PA is a periodontist offering patients personalized dental care for Bradenton, FL since 1980. Dr. Eastman received his Doctor of Dental Surgery degree from Loyola University Dental School where he completed his Graduate training in Periodontics and his Masters of Science in Oral Biology. He received his Post-Graduate specialty training in Surgical Placement of Implants from Northwestern University Dental School, and completed Business Management Training from Pride Institute. He is part of one percent of dental professionals providing the most recent FDA cleared laser procedure for gum disease and periodontal treatment. To learn more about Dr. Eastman and his dental services visit his website at http://www.bradenton-periodontist.com and call (941) 792-3899.