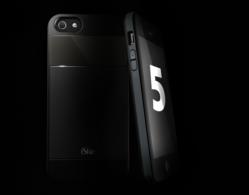 We are going to release new iPhone accessories that are innovative, trendsetting and exciting
Toronto, Ontario (PRWEB) September 07, 2012
iSkin, a premium brand of fashion and technology lifestyle accessories today announced plans to release a collection of products specifically designed to protect and accessorize the upcoming Apple® iPhone 5.
"Apple practically announced the iPhone 5 with its Sept. 12th press invitation," says Andrew Ackloo, CEO of iSkin. "It's going to be the most feature-packed iPhone launch in Apple's history, and we know everyone will want one. That's why we are preparing to release our line of accessories, which will be unveiled shortly after the iPhone 5 is launched."
iSkin urges its customers to sign up for their new online notification service. By doing so, customers will receive a $5 off coupon redeemable towards new iSkin product releases and will, of course, be the first to learn about new products from iSkin for the iPhone 5.
"We are going to release new iPhone accessories that are innovative, trendsetting and exciting," said Ackloo. "We can't go into detail, but you're going to want to know the latest news on the products we have in store for iPhone users."
iSkin would also like to announce that those who sign up for our latest updates will also be entered into a contest for a chance to win an iPhone 5; it's just another way iSkin is thanking its customers for their continuous support. Please visit: http://www.iSkin.com/iPhone5
About iSkin Inc.
iSkin Inc. has been one of the world's most trusted mobile accessory brands since its first advanced protective solution for the iPod® in 2002. Known for its cool, innovative designs and fashion-forward style, iSkin continues to be the leading mobile accessory brand. iSkin continues to focus on delivering the highest quality, innovative design and fashion-forward style in accessories for Apple®, BlackBerry® and now Samsung®.
The iSkin word mark and logo are registered trademarks of iSkin Inc., registered in Canada, the United States and other countries. All Rights Reserved 2006-2012.
Contact:
Press@iSkin.com
http://www.twitter.com/myiskin
http://www.facebook.com/myiskin