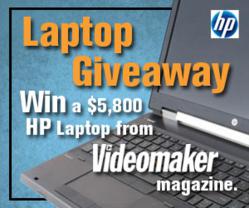 Chico, CA (PRWEB) September 07, 2012
Videomaker magazine is holding a contest to give away a free HP laptop to one lucky winner.
Videomaker always strives to help videographers and filmmakers create better movies with top notch tips and training. Today, America's premiere video production magazine is going the extra step to help one lucky winner get the best tools available today for video editing. Videomaker is giving away one free HP EliteBook, valued at $5,800.
The HP EliteBook 8760w is a top video editing laptop from Hewlett-Packard. The CPU is a quad core Intel Core i7 2820QM 2.3ghz capable of 3.4ghz on turbo boost. The workstation comes with 16GB of DDR3 1333 RAM. The new NVIDIA Quadro 5010M comes with 4GB of memory and has 384 CUDA cores. The workstation supports many types of media and has lots of plugs to support various devices like: two USB 2.0, two USB 3.0, DisplayPort, eSATA, FireWire, VGA, Blu-ray, DVD, and even a SD/MMC memory card reader. You can view it all on a 17.3" LED backlit DreamColor HP FHD. The LCD comes with an optional HDintegrated webcam, allowing video creators to shoot video from the workstation.
Videomaker received this laptop from Hewlett-Packard, and the editors have been nothing but impressed with its capabilities. When Videomaker reviewer Lance Olinger reviewed this powerful computer, he raved: "This computer has it all and the price tag reflects that. If you can afford it then buy it, you won't be disappointed."
To enter this contest, click this link and fill out the entry form. There's no entry fee or membership requirement. One lucky winner will find themselves the proud owner of this top-of-the-line laptop absolutely free. This offer is only open to people living in the United States or Canada. This contest is open now and runs until September 30.
ABOUT VIDEOMAKER
Founded in 1986, Videomaker was the first magazine to introduce video to a mass, non-industry audience. Though the video field has exploded dramatically in recent years, Videomaker still remains dedicated to its core mission: To encourage aspiring directors and documentarians to use video technology to find their own voices and tell their own stories. Today, Videomaker is more than just a magazine. It's grown to also become a robust online community, offering a full line of training DVDs, videos-on-demand and a series of webinars and hands-on video training workshops. Every month, more than 50,000 professional videographers, independent filmmakers, and home video hobbyists turn to Videomaker to get the latest video scoops.
To learn more, visit the Videomaker Laptop Giveaway on Videomaker's sweepstakes page.