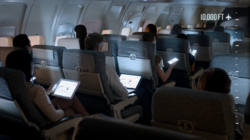 Mode Project is totally in-tune with our brand objectives for the campaign. We see them as an extension of our team.
Chicago, IL (PRWEB) September 11, 2012
Mode Project, a Chicago-based design and production studio, is once again working with Gogo, the leading provider of inflight internet service, to produce Gogo's 2012 summer ad campaign. Mode Project handled creative editorial, design, animation and finishing for the campaign that Gogo is releasing for broadcast, web and in-flight viewing.
This campaign marks the third time the two companies are working together to deliver spots to large audiences. Their last joint project, a fully-animated ad produced for Gogo's holiday campaign in 2011, played to TV audiences all over the United States and brought significant media attention to Gogo's end-of-year promotion.
The new spots cast a humorous light on the possibilities that Gogo's inflight internet service opens up for flyers. From shopping for shoes on Zappos.com to hunting for the best tacos in Fargo, the goal of the campaign was to demonstrate how drastically internet access can improve the flying experience, using comedy to engage viewers.
"There's a good reason we keep coming back to work with Mode Project," said Heath Miller, Gogo's Vice President of Creative, Brand and User Experience. "That reason is trust; Mode Project is totally in-tune with our brand objectives for the campaign. We see them as an extension of our team."
"While we work with a lot of agencies," explains Mode Project Creative Director Brooks Ruyle, "partnering directly with brands challenges us to deliver full-service creative work using a very streamlined and cost-effective process. We're delighted that Gogo is seeing success with this approach."
In addition to its direct-to-client work, which includes projects for Electronic Arts, JPMorgan Chase, Ecko Unltd and Lion Nathan USA, Mode Project also collaborates with some of the world's leading ad agencies to produce spots and content for brands such as United, Kellogg's, MillerCoors, Nintendo and UPS.
About Mode Project:
Mode Project is an award-winning studio that creates distinctive content for the advertising, marketing and entertainment industries. Working with companies of all sizes, the Mode team partners with clients to find creative and cost-effective solutions tailored for each project. Mode services for broadcast and digital media include: concept development, production, design, animation, editorial, and finishing. The studio also frequently collaborates directly with brands' internal marketing and communications teams on a range of projects.
Recent Recognition: CASA "One Boy's Story," 2012 Promax BDA Silver for Art Direction and Design.
About Gogo:
Gogo is fast becoming everyone's favorite part of flying. By allowing travelers to get online, in air, Gogo keeps them connected to life. Using the Gogo exclusive network and services, passengers with laptops and other Wi-Fi enabled devices can get online on more than 1,500 commercial aircraft including all domestic AirTran Airways and Virgin America flights, all domestic mainline Delta Air Lines flights and select Air Canada, Alaska Airlines, American Airlines, Frontier Airlines, United Airlines, and US Airways flights.
Back on the ground, Gogo's 400+ employees in Itasca, IL, Broomfield, CO and London are working to continually redefine flying as a productive, socially connected, and all-around more satisfying experience.