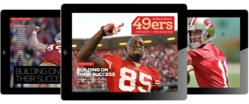 "49ers INSIDER is a new, colorful and insightful digital magazine highlighting the team every week of the season," said Susan Fornoff, 49ers INSIDER digital magazine editor.
San Francisco, CA (PRWEB) September 07, 2012
The San Francisco Chronicle, the Bay Area's leading source of local news and advertising information, will launch a new twice-a-week digital magazine devoted to the San Francisco 49ers. The digital magazine, available only for iPad®, will provide readers with a game-by-game look at the 49ers, scouting reports of opponents, fantasy football advice and sports handicapping information as Coach Jim Harbaugh, tight end Vernon Davis and the rest of the team move through the much-anticipated 2012 season.
49ers INSIDER digital magazine will be jam-packed with magazine-exclusive, multimedia features, plus stories and expert commentary from The Chronicle's 49ers team of Eric Branch, Ron Kroichick and Scott Ostler. In addition, the digital magazine will provide reports from two-time Fantasy Football Writer of the Year Ladd Biro; sports handicapping tips from Adam Meyer, one of Las Vegas' most well-known gamblers; the post-game insight of Art Spander, Pro Football Hall of Fame columnist; and Ted Johnson, former sports editor, with more than two decades of experience covering sports, including the 49ers' Super Bowl victories in 1989 and 1990.
Other content features of 49ers INSIDER digital magazine include:

Profiles and Q&A features from player such as quarterback Alex Smith and wide receiver Randy Moss
Tailgate party pointers and recipes you can make at the game or at home
Social media reports and Twitter feeds from 49ers players such as linebacker Patrick Willis and wide receiver Michael Crabtree
Cheerleader profiles and photos
Expert contributors from the world of sports, who cover the 49ers from a local, regional and national perspective
And The Chalkaholic, a video feature breaking down the game's key plays
The digital magazine is an extension of The Chronicle's award-winning, in-depth sports coverage that readers have come to expect from the Bay Area's leading news source. 49ers INSIDER stories, features, photos and videos are optimized for the iPad to give users a richer, more visually dynamic presentation of this new and exciting 49ers and NFL coverage not found in the newspaper or on SFGate.com.
"As we gear up for what has been one of the most anticipated NFL seasons in Bay Area history, I am pleased to be able to offer 49ers fans a new, colorful and insightful digital magazine that will take them through every game in vivid color and with x-ray insight," said Susan Fornoff, 49ers INSIDER digital magazine editor.
The digital magazine publishes twice a week during the season, including the playoffs, should the 49ers advance. A pre-game issue will be published each Friday, with a post-game issue available the morning after the game. Each issue contains all-new content designed to be a one-stop destination for fans as they follow the 49ers all season long.
Download 49ers INSIDER digital magazine from the App Store newsstand at bit.ly/OqmWkQ.
About the San Francisco Chronicle/SFGate.com
The six-time Pulitzer Prize-winning San Francisco Chronicle is the Bay Area's leading news and information source and has been connecting the region with its award-winning journalism since its founding in 1865. Combined with its online home, SFGate.com, the San Francisco Chronicle reaches 1.7 million Bay Area adults each week.