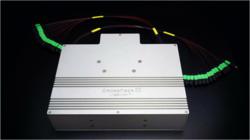 San Diego, California (PRWEB) September 12, 2012
CrossFiber Inc., the developer and manufacturer of breakthrough photonic switches that enable novel architectures in data centers and next-generation telco fiber optic networks, announced today the completion of the final tranche of its Series D funding, now totaling $13.4 million. The Company said that the majority of the funds have been and will continue to be used for rapid expansion of manufacturing capacity, to meet the high demand for LiteSwitch(TM) family of photonic switches. Southern Cross Venture Partners led the round, with participation from New Venture Partners, Arsenal Venture Partners and existing investors including Back Bay Management and PacifiCap.
"With unique technologies and products attracting tier-one customers, CrossFiber is leading the way in optical switching in data centers and telecommunications. We are delighted to be a part of CrossFiber's exciting story, and to work alongside such great domain expert investors as NVP, Arsenal, Back Bay, Trex, and PacifiCap," said Dr. Larry Marshall, Managing Director of Southern Cross. "We welcome the new investors in this rapid-growth stage of the company and thank all investors for their confidence and support," said Hus Tigli, President & CEO of CrossFiber.
About CrossFiber
CrossFiber develops and manufactures breakthrough photonic switches, based on proprietary technologies which combine 3D MEMS micro-mirrors on silicon, non-invasive beam steering (NIBS), and custom ASICs. CrossFiber's unique combination of performance and cost makes LiteSwitch™ systems the most suitable across all major applications in data centers and telco fiber optic switching. More information can be found at http://www.crossfiber.com.