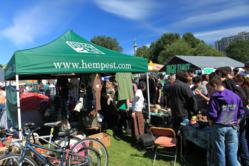 End prohibition by voting with your dollars.-Jon Napoli
Boston, Massachusetts (PRWEB) September 08, 2012
Jonathan Napoli, founder of The Hempest and Hempest.com, will be a featured speaker at this year's Freedom Rally on Boston Commons this September 15. The Hempest is based in Boston and offers the largest selection of hemp clothing in the world at Hempest.com. Excerpts from his speech are below:
It's not just about the right to use this plant recreationally, medicinally or spiritually. it is about using hemp for food, fuel, textiles, paper and literally thousands of other green products. It is about making healthy choices for our bodies and the planet every day so that it becomes the normal natural thing to do. Currently, we live in a polluted, toxic world full of chemicals and carcinogens. Hemp is about healing, restoration and profits for American farmers if only they weren't prohibited from growing this valuable and versatile crop.
End prohibition by voting with your dollars. Politicians and business leaders may not care what we say but they sure as hell care about what our money says. There is no reason why everyone here shouldn't be eating hemp, wearing hemp and using other basic hemp products every day! Canadian farmers grow hemp and when American farmers and politicians grow tired of our money flowing northward, we will grow hemp here. Picture a world where hemp grows free and then make it happen with your actions. Let us end prohibtion by 2020 because our planet needs healing now, and so do we!