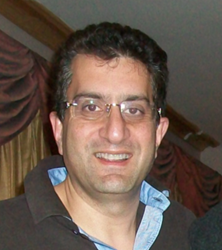 Middleton, Manchester (PRWEB) September 07, 2012
Leading Manchester dentist Tariq Drabu, the owner of Langley Dental Practice in Middleton has announced that he will be leading his team forward to take up the challenge of achieving Investors in People (IIP) status by January 2013 in time for its 15th anniversary under his ownership.
Tariq Drabu who bought Langley Dental Practice in 1998 has over the past 15 years changed and improved the practice beyond all recognition. From a small practice of 2 chairs and 1500 patients he has expanded the practice to 4 chairs and a patient base of over 15000. The practice now boasts state of the art equipment and facilities and also acts as a referral centre in the Rochdale borough for specialist minor oral surgical procedures.
In 2011 Tariq Drabu and Langley Dental Practice achieved accreditation on the British Dental Association's Good Practice scheme, a national externally audited quality mark for dental practices. The BDA Good Practice Scheme is UK dentistry's leading quality assurance programme. By becoming members of the scheme, Tariq Drabu and Langley Dental Practice have demonstrated a visible commitment to providing quality dental care to nationally recognised best practice standards.
After conducting a review of the current state of his practice Tariq Drabu said "the team at Langley Dental Practice are ready to step up to the next level. Investors in People is about improved service delivery and business performance, business development and growth and improved employee engagement and performance. This is the direction in which I want to take my team at Langley Dental Practice in order to ensure that we remain competitive in an ever changing and somewhat uncertain market."
Over the next few months Tariq Drabu and his team at Langley Dental Practice will be conducting a business review with IIP North West and be setting themselves strategic objectives in terms of service delivery and quality. These will be reviewed by a team of external assessors before the prestigious IIP quality mark is awarded.
Tariq Drabu added "these challenges and requirements are tough and demanding – however I am confident that many of the policies and procedures that we have in place will stand us in good stead for the rigours of IIP."
Matthew Hodkinson, Clincal Director of Langley Dental Group said "I am sure that Tariq Drabu and all the team at Langley Dental Practice are looking forward to going down the IIP pathway and we are delighted to have been given this opportunity to prove ourselves. By going down this route we will be following the standards set by many other prestigious and high profile employers up and down the country."