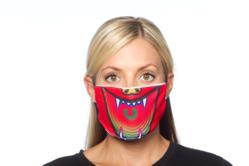 I wanted to make something different and stylish, while at the same time creating a high-quality product for winter and sports activists. After all, why not do it in style?"
Irvine, CA (PRWEB) September 07, 2012
Trueninza (Trueninza.com), an international clothier and specialty sports wear company dedicated to providing high-quality apparel for winter sports including skiing, snowboarding, snowmobile, hiking and snow shoeing, today announced that it has initiated a Facebook "Like" giveaway event. For every 50 "likes" through its website, Trueninza will randomly choose one person to receive their choice of one stylish and innovative image-encrusted ski mask or chest-length bandana.
In addition, for every 500 Facebook "likes" Trueninza.com receives, Trueninza will randomly select one person to receive a free GoPro Action Camera H2, a $299.99 retail value.
Trueninza offers more than 20 different designs of ski masks and chest-length bandanas featuring a variety of hip, never-before-seen on the slopes images.
"In an effort to bring a little attitude to the slopes, I developed the Trueninza masks and bandanas because, as an avid outdoorsman, I thought all of these products on the market today were too plain, boring and not comfortable enough for long-term use," said Simon Lee, Trueninza president and CEO. "I wanted to make something different and stylish, while at the same time creating a high-quality product for winter and sports activists. After all, why not do it in style?"
Also, Trueninza will showcase its products at the 9th Annual Hot Dawgz and Hand Rails Competition at Big Bear Mountain Ski Resort on September 22 where more than 40 top professional snowboarders will compete for $15,000 in cash prizes. Hot Dawgz and Hand Rails draw more than 7,000 action sports enthusiasts to the resort each year.
Trueninza's ski masks fit over the ear and mouth, strapped over an individual's ear with elastic straps. The bandanas are triangle shaped and cover the nose, mouth, neck and chest, and are fastened around the neck with Velcro straps.
The bandana design features a breathing hole (for easy breathing that also prevents fogging of goggles), rubber covered thin wire so that it will fit on the nose, and contains elastic to prevent the bandana from falling down and keeps it in place when riding or skiing.
Both the face masks and the bandanas are fashioned of an outer and inner fabric. The outer fabric is polyester with moisture management protection to keep the face dry, but allowing ease of breathing. The inner fabric is minky, is as soft as cashmere and often used in for making baby blankets.
In addition, the inner fabric is sprayed with anti-microbial spray to prevent and kill allergens, germs, fungus and odor causing bacteria to give fresh smell.
The elastic ear loop on the ski mask is also hand picked, is smooth and soft, and when worn will not irritate any part of ear.
All of the masks are 100 percent, designed, fabricated, sewn, cut and packaged in the United States.
Designs include images such as a mummy face, a smashed face with bloody nose and broken teeth; a red devil mouth with long fang-like teeth; a zippered mouth; fat puckered lips; a pacifier; and intense multi-colored patterns, among a variety of other wild images.
Ski masks retail for $20 and bandanas are priced at $40. All of Trueninza masks and bandanas can be purchased at http://www.trueninza.com, or via Amazon, eBay and Sears.com. Trueninza ships free to all 50 states with standard shipping.
Trueninza's Facebook contest will be in effect until 2,000 Facebook likes have been gained.
For more information about Trueninza.com, to view designs of the masks and bandanas or to place and order, visit http://www.trueninza.com
About Truninza.com
Founded in 2012 and headquartered in Irvine, California, Trueninza.com provides high-quality winter sports including skiing, snowboarding, snowmobile, hiking and snow shoeing.
Trueninza.com products currently include ski masks and bandanas and are sold throughout the United States and Asia.