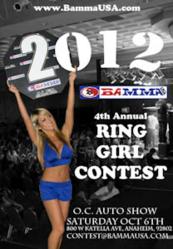 This is a great opportunity for the winner
Santa Ana, CA (PRWEB) September 07, 2012
The online form asks for contact information, a short bio, and up to 3 photographs for submission. The Top 20 Finalists will compete live at the 2012 Orange County International Auto Show, on Saturday, October 6, 2012, where a winner will be selected. The 2012 Orange County International Auto Show takes place at the Anaheim Convention Center located next to Disneyland. The online contest begins on Friday, September 7, 2012.
The winner will receive up to $1,000.00 in prizes and will serve as the Guest Ring Girl featured at "Badbeat 7 presented by Budweiser". BAMMA USA's professional MMA fight series, Badbeat, has seen marketable increase in popularity and exposure by selling out their previous events and also posting increased national and international viewership on their New LiveStream channel. According to Brett Roberts, BAMMA USA CEO, "this is a great opportunity for the winner in a couple of areas. On one hand, it is great exposure. Viewership on the BAMMA USA LiveStream channel reached 100,000 live viewers for Badbeat 6. On the other hand, it is a special experience to be part of a live event. We have repeatedly sold out our events at the Commerce Casino, and the energy you get from that size audience is hard to duplicate anywhere."
2012 BAMMA USA Guest Ring Girl Contest
Online submissions begin: Friday, September 7, 2012
Online submissions deadline: Thursday, October 4, 2012 (midnight PST)
Live Finale: Saturday, October 6, 2012 @4pm*
Orange County International Auto Show
Anaheim Convention Center
800 West Katella Avenue
Anaheim, CA 92802
Badbeat 7 presented by Budweiser
Friday, October 12, 2012
Commerce Casino
6131 Telegraph Road
Commerce, CA 90040
Doors open at 6:00pm
First fight at 7:30pm
Main Card*
Main Event- 205 lbs: Virgil 'Rezdog' Zwicker (10-3) vs. Mike 'The Animal' Cook (12-10)
Co-Main Event- 135 lbs: 'The Real Deal' Chris Beal (6-0) vs. Shad Smith (12- 15-2)
12. 145 lbs: Steve 'The Dream' Magdaleno (9-3) vs. Jason Williams (4-4)
11. 185 lbs: Mike Jasper (5-0) vs. Kyle Bolt (3-1)
10. 145 lbs. Chris 'The Urban Legend' Culley (16-10) vs. Tom 'The Grinder' Gloudeman (6-2)
9. 155 lbs: Scott 'K.O.' Catlin (8-5) vs. Harold Lucambio (8-8)
Preliminary Card*
8. 155 lbs: Eric Brown (3-2) vs. Jorge Valdez (4-2)
7. 205 lbs: John Hernandez (1-0) vs. Mike Smith (0-1)
6. 135 lbs: Terrion Ware (2-0) vs. Marvin Madariaga (1-0)
5. 155 lbs: Gil Guardado (1-0) vs. Xavier Stokes (4-4)
4. 125 lbs: Anthony Frank (1-0) vs. Bronson Casarez (3-0)
3. 170 lbs: Tony Stewart (1-0) vs. Daniel McWilliams (10-21)
2. 135 lbs: Ron Scolesdang (1-0) vs. Mike Hansen (0-0)
1. 205 lbs: Christopher Schommer (0-0) vs. Nick Piecuch (0-0)
*=Subject To Change
About BAMMA USA
BAMMA USA is a Mixed Martial Arts (MMA) promotional company specializing in creating live entertainment featuring both professional and amateur combatants. Currently stationed out of Southern California, BAMMA USA promotes the area's top local talent from mixed martial arts gyms such as CSW, Knuckleheadz Boxing & MMA, Elite MMA, Kings MMA, PKG, Joker's MMA/Lightning MMA, The Bodyshop, Reign Training Center, Total MMA Studios, Ace Jiu-Jitsu, Cobra Kai, Gracie Morumbi, Cesar Gracie Jiu-Jitsu Academy, The Arena, Subfighter MMA, as well as many others. BAMMA USA is Southern California's leading mixed martial arts (MMA) organization providing the area with events monthly and opportunities to professional and amateur athletes.
Past and current fighters who have worked with BAMMA USA founder Brett Roberts include: Mike 'Joker' Guymon, Vladimir 'The Janitor' Matyushenko, Joseph 'Leonidas' Henle, Georgi Karakhanyan, Gabe 'Godzilla' Ruediger, Jason Lambert, Chad 'The Savage' George, Albert Rios, 'The Real Deal' Chris Beal, Jack 'The Outlaw' May, Jared 'The Jackhammer' Papazian, and more…
While the promotion prides themselves on their motto: "Keep Moving Forward" the ultimate passion for BAMMA USA is to create an environment in which fighters are truly valued.
Company Information Sources
http://www.BammaUSA.com
Facebook.com/BAMMA USA
Twitter @BAMMA USA
Personal Contact Information
CEO
Brett Roberts
info(at)BammaUSA(dot)com
714.912.8822
About TicketForce
TicketForce utilizes a powerful web-based ticketing system to provide venues, promoters, festivals, arenas and civic centers with a fully-customizable solution for full-service ticketing and box office management. TicketForce provides a complete suite of scalable products and services, including EasyTix – offering low, fixed fees, free call center support, and no equipment costs with minimum sales. Sales at http://www.myeasytix.com. All solutions include print-at-home ticketing, electronic will-call, access control, payment processing, management tools, and real-time reporting. More information is available at http://www.ticketforce.com and http://www.myeasytix.com
About Livestream
Livestream is the market leader for live event coverage. With simple to use technology, our service allows anyone to broadcast live to the web, as well as being the top destination for live content from around the world. Our clients include Facebook, The New York Times, ABC News, CBS News, Associated Press, HBO, AT&T, PepsiCo, Electronic Arts, Adidas, The Academy Awards, Warner Bros. Records, and Paramount Pictures.
Livestream operates with over 120 full-time staff members in 4 offices—in New York (headquarters), Los Angeles, Bangalore, and the Ukraine. The service is available for free (advertising-supported) or as a feature-rich, monetizable, premium service for business.
The New Livestream is an innovative new platform that combines live video with real-time photos, text, and video clip updates. The technology supports live blogging all executed with ease using the real-time posting tools from both mobile and the web. Features on the New Livestream include an improved video player and an array of new tools that allow more people to discover your event, interact with it and share it across the web.