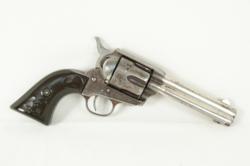 He was the only one that I can recall who had a nickel one. I handled it a few times ...I remember the 'eagles' on the grips as most of the boys had wood handles, except Logan who had white ones...Reason I remember it so well, is that I always wanted one
California Auctioneers - Ventura, California (PRWEB) September 08, 2012
In October 1899 Cassidy turned in his trusted Colt SAA 45 to Sheriff Parley P. Christison in good faith to appeal to the authorities for Amnesty. The extraordinary fire arm will be offered at auction to the highest bidder on Sept 30th, 2012 at California Auctioneers in Ventura, California. The Colt was featured in a number of magazines in years past, including Gun Journal, Guns, and Guns and the Gunfighters (published by Guns & Ammo) and featured articles about how Cassidy 'hid his secret treasure inside the black grips of his trusty colt.'
"We've come to a time when we are two generations away from the folks who knew Cassidy, fortunately former owner E. Dixon Larson launched a pilgrimage from 1967-1970 documenting and interviewing people who knew Cassidy and remembered this Colt." Said Auctioneer Jewels Eubanks.
One of those people was Lula Parker Betenson, Cassidy's younger sister who can be seen holding the Colt on page 2 of her book "Butch Cassidy, My Brother." Pages 159-160 verify the serial number 158402, A number of photographs and original letters between Larson and Betenson are offered with the colt in addition to over a hundred pages of research and verification documents.
Included with the Colt 45 (158402) is his "Brill" Jacket holster and never before seen documents including an original letter and photo of William Darby who 'rode with [Cassidy] ...into the 'hole', he recollects:
"Butch's coat gun that he carried under his arm most of the time and without a question, this is it. (#158402) He was the only one that I can recall who had a nickel one. I handled it a few times ...I remember the 'eagles' on the grips as most of the boys had wood handles, except Logan who had white ones...Reason I remember it so well, is that I always wanted one just like it. It was a 45 and most others were 44's."
In additional to Darby's testimony a never before seen conversation with Charles Hanks from 1969 confirms he visited with "Butch" in Vernal Utah after he was reported killed in Bolivia. He also claims that he visited him again in Salem, Oregon in 1924. He remembers being 12 years old and seeing Butch with the Nickel Colt, holster and black eagle grips.
Two Binders with well over 100 pages of documents are included with the original manila tag Parley P. Christison signed in Juab County, Utah where Cassidy turned in this colt and his Winchester. An original photograph of the Justice document filed Jan. 2nd 1900 (after Cassidy did not return) also verify the Colt 158402 and his Winchester. Correspondence with he Owner of the Cassidy Winchester, Jim Earle proved to have an exact copy of the same Docket.
Cassidy's attempt for Amnesty with the help of his friend Matt Warner, Sheriff P.P. Christison and his lawyer Orlando Powers to meet Governor H.C. Wells is well documented. (Coincidentally Warner, Christison and Governor Wells were all from Juab County, Utah)
It was perhaps Cassidy's last attempt on American soil 'to lay down his sword and shield,' and in doing so he left behind a piece of the Wild West; he turned in his Colt SAA - 45; the jacket gun that Hanks claims could be seen poking out of his vest, under his jacket next to his heart, and the act of turning it in represents his last attempt to cooperate with the authorities for a life more ordinary.
The Amnesty Colt remains a symbol of the duality of 'the men of the West;' half hero, half outlaw, forged in steel conviction, yet fueled with the hope of the American dream. It is said Cassidy homesteaded in Argentina, further proof of his desire to settle down before being forced on to Bolivia.
Many believe Cassidy found his way back to the states including his sister and Hanks; it is uncertain, but it is certain that the Robin Hood of the Wild West will remain one of the most beloved American legends who the Pinkerton National Detective Agency described as "a cheerful and amiable bandit with a pleasant square-jawed face and an almost gentle appearance," and extremely dangerous.
California Auctioneers invites you to join them on September 29th and 30th for a spectacular 2-day auction event where they will be representing a number of additional Historic Wild West Relics including the Beaded jacket of Sioux legend Crazy Horse, who defeated Custer on the Western Plains, The Colt Navy Percussion of Confederate & outlaw legend Frank James. Outstanding Native American artifacts include a museum quality 23" Apache Olla depicting over 80 figures.
Saturday September 29th will feature item such as French & American Estate Furniture, Baby Grands, Galle', Lalique and Tiffany, Western and Plein Air paintings, fine estate and antique jewelry, clocks, Lladro, Antique Dolls including Jumeau, toys, lighting, oriental rugs, fine pottery, porcelain and glassware...
Sunday September 30th will feature Historic & Antique Firearms, Native American Artifacts, rugs, baskets, pottery, Western Art, American Antique Furniture, Collectibles, Indian Jewelry and more.
Preview in person Thursday and Friday September 27 & 28th 12-5pm, or Bid online live during the auction; they stream the sale live through 3 companies: Liveauctioneers, Proxibid and Artfact - see more highlights and details at their website: http://www.calauctioneers.com
See RMK and Red Sky's Short Doc on the Colt: http://youtu.be/oAf2k5Knw5M
California Auctioneers & Appraisers
8597 N. Ventura Ave.
Ventura, California 93001
(805) 649-2686