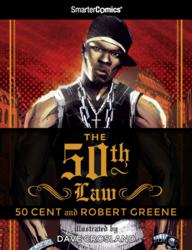 Young adults don't read books like they did 20 years ago.
San Francisco, CA (PRWEB) September 07, 2012
Based on 50 Cent's life, readers can learn how to become successful in business and life!
In 2009, rapper 50 Cent published The 50th Law with Robert Greene, who is famous for writing such indispensable guides to power and life as The 48 Laws of Power and The Art of Seduction. The collaboration between Robert Greene and 50 Cent became a New York Times Bestseller; now, they are publishing the comic book version.
They decided to publish a comic book because that format makes it much easier to reach younger readers. Young adults don't read books like they did 20 years ago. They're communicating with text messages, with tweets, and with status updates. The comic book version grabs the attention of readers with its colorful and eye-catching illustrations and makes it easy to communicate an idea quickly.
In fact, the comic doesn't feel like reading at all, engrossing readers through an intense visual experience. It's fun, but it's also a great way to pick up 50 Cent's and Robert Greene's wisdom. Plus, because there are visuals tied to each lesson, it's easier to retain.
Although both authors support formal education, the comic book teaches something that can't be learned in any classroom: "street smarts". Readers can literally see everything 50 Cent has been through in illustrated color. It's not an abstract self-help/business school text. This is real life as lived, whether it was surviving getting shot nine times or becoming his own boss in the cutthroat recording industry.
The comic book is both educational and entertaining. It's 50 Cent's story of how he got off the streets, on the top of the charts, and how he started calling the shots in the boardroom. Parents will be happy to give it to their teenage kids – although they're going to learn a few things from it, too. It's something that can be appreciated by people of all ages, offering readers valuable insight into the world around them, no matter what part of their life they are in.
The 50 Cent marketing team is going to promote the comic through different marketing channels. With over 24 million fans on Facebook, this might very well be the biggest book launch ever on Facebook.
"Since 50 Cent has a huge fan base around the world" says Franco Arda, the publisher, "we put a special focus on the availability of the book (print and digital) worldwide."
The paperback version will be available through Amazon on October 10, 2012 in the United States, Canada, China, Japan, the United Kingdom, France, and Germany. It is currently available for pre-order.
The 50th Law will be available in paperback and digital formats, whether readers prefer their digital materials through Kindle, Apple iBooks, or PDF download.
Sander Pieterse, chief designer at SmarterComics, says, "The immediate download of the PDF version is also very valuable for 50 Cent's fan base around the world. Anyone who has a computer can download the PDF immediately and read it on literally any device."
For more information, please visit http://www.50CentComic.com. Visitors can download a free 50 Cent comic wallpaper.
50 Cent
50 Cent is, undoubtedly, one of the biggest names in the rap industry. His 2003 album, Get Rich or Die Tryin' has been certified six times platinum by the RIAA. Although 50 Cent enjoys tremendous success now, his roots are those of a hustler; he began drug dealing at the age of twelve, which gave him the need to become fearless in order to attain success and power on the streets and, later, in the recording industry. It is this fearlessness that is detailed in The 50th Law.
Robert Greene
Robert Greene is most famous for writing The 48 Laws of Power, the modern day version of Machiavelli's The Prince, detailing the dynamics of social and political power. The 48 Laws of Power became very influential in the hip hop community and has been mentioned in songs by Kanye West, Drake, Jay Z, Young Buck, and others. Based on this influence, Greene teamed up with rapper 50 Cent in 2009 to write The 50th Law, elaborating on the themes of power using 50 Cent's life as a backdrop. His other titles include: The Art of Seduction and The 33 Strategies of War.
SmarterComics
SmarterComics is dedicated to creating comics that "make you smarter." By turning books into comics, they bring their readers lessons that range from self help to getting rich. Some reader favorites have included their unique take on Sun Tzu's The Art of War, Miyamoto Mushasi's The Book of Five Rings, and Brian Tracy's Eat that Frog. Entrepreneur Magazine listed SmarterComics as one of the "100 Most Brilliant Ideas" of 2012.
For media inquiries or to request a review copy, please contact:
Heidi Keller
media(at)smartercomics(dot)com