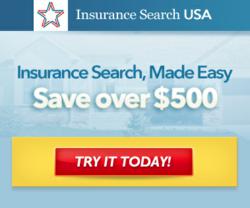 Los Angeles, CA (PRWEB) September 07, 2012
In a highly competitive market consumers are often left feeling at a loss in regards to where to start searching for a new insurance provider. Google is where most begin but with so many results it's hard to distinguish the quality providers as well as which are best suited to a particular users needs. Enter InsuranceSearchUSA.com.
With focus on the average American consumer the site provides a worry-free, simple approach to finding the best insurance companies. No long forms to fill out only to find disappointing results. The site literally takes 5 seconds to return the initial list of qualified providers.
The only details required to start comparing quotes are completely anonymous. First, selecting the type of insurance required, the site is not limited to only car insurance but also life, health and home insurance.
Secondly providing a zip code will allow the result to be refined to the top providers in the given area. Different discounts and offers are available in different areas and rates vary depending on the users location.
Visitors can feel confident that the results returned are approved quality partners and that the insurance providers listed are suited to their criteria. Most consumers will compare a minimum of 3 different insurance quotes before making a final decision, allowing them to feel confident they've taken advantage of the most savings possible.
Average savings of $500 per year on car insurance.
The site advertises savings of up to 40%, a modest number considering many save much more. "There are many different factors that come into play such as special discounts and insurance premiums, many save 40% but we are always pleased when we receive reports of savings up to 75% sometimes." a representative of the site responded.
Still in its first week, the response to the service has been very positive and site reps say they are just getting started. "We are always looking for better ways to serve our visitors, we do believe we have found the most straightforward insurance quoting system in place but will also release guides and articles to educate consumers about insurance."