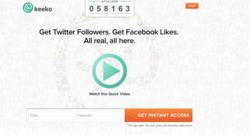 Ottawa, On (PRWEB) September 07, 2012
Earthquakes, typhoons and other such calamities always come unannounced and can wreak considerable damage to the lives of many people, but as communities begin to rebuild, social media networks have proven to become great tools in gathering individuals to lend a hand.
According to various news sources online and updates streaming through Twitter, a magnitude 7.6 earthquake struck off the coast of Costa Rica on Wednesday, Sep 5, 2012. People can be thankful that the tremors only caused little damage to the area, but history has seen natural calamities do much worse.
"Social media has proven to help people rebuild communities in the aftermath of these unfortunate events," says Diana Quartin, Creative Director of Clicking Labs. "With this technology people have asked for help, relayed news and updates real time, and have offered hope and assurance to those in need. The wider your network, the more you can reach in these dire circumstances."
She adds: "Social media exchange web tools like ours are not only for marketing purposes that can help businesses. It can be used to propagate a good message, a worthy cause that can help communities; it's not just for businessmen. It can also be good for non-government or non-profit organizations who are on a budget, or individuals who want to take action both online and offline when help is needed."
For entities and individuals with similar causes, they can sign up for an account by going to http://www.keeko.com and begin to earn points which they can redeem to earn more followers and connections.
Keeko can also be found on Twitter.
About Keeko
Keeko is a wholly owned company by Clicking Labs. With dedication and perseverance they were able to bring together a diverse team of web professionals to provide internet businesses with creative web marketing strategies. Founded in Ottawa, Canada, the company has expanded operations to Cebu, Philippines in early 2011 to better serve its clients.