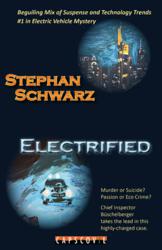 "A charming detective story with congenial characters"
Glonn, Germany (PRWEB) September 10, 2012
"Electrified" integrates developments in electric vehicles, related initiatives and the latest battery technologies, while also addressing challenges currently facing the industry: charging methods, energy storage and grid stability. Capscovil presents the novel at the Frankfurt Automechanika 2012 in hall 4.1, FOY16, and will also inform about innovative concepts to help companies to leverage the novel´s potential for their businesses. Author Stephan Schwarz, who graduated from Braunschweig University with degrees in electrical engineering and industrial engineering, will be joining us at the show from Sept 13th (afternoon) to Sept 15th. He will also participate in the first leg of the Bertha-Benz-Challenge, which sets off from the fair on Sept 14th.
Book description:
Frankfurt, East Port - 7.00a.m.: The dead body of a chemical consultant is found in a car. Is it suicide? Or murder? Chief Inspector Felix Büschelberger, who saves toads in his spare time, and his technology-enthused Italian colleague, Emilio, set out to unearth the truth. Together with the rest of their tea-drinking team they chase countless leads in their agile electric vehicle on an unpredictable journey that takes them to Italy and as far as Kenya. But their road is paved with bumps and dead ends. A reconstruction of the circumstances seems impossible.
"Electrified" is the title of the English translation of the original German novel "Krötenmord", published in December 2011. Details related to electric vehicles and new mobility have been updated for the English edition.
"Electrified" is available in print (perfect paperback ISBN 978-3-942358-22-4, €16,95[D], €17,30[A], GBP 15,95, US$18,95 RRP) and electronically as an ebook compatible with various reading devices and platforms.
Trade Show Special:
Automechanika is giving away copies of an exclusive edition signed by the author to 20 people who visit the Capscovil booth from Sept 11th through to Sept 15th.
About Capscovil:
Capscovil is the first publisher of its kind to pursue three goals at once:
-Offering entertaining reading (fiction in print and ebooks)
-Accelerating trends and arousing interest in technological topics
-Fostering social commitment
Capscovil - founded in December 2009 - is run by Britta Muzyk and based in Glonn near Munich, Germany. As an industrial and production engineer who worked for over 15 years for renowned companies such as W.L. Gore, Teradyne and Intel, she has succeeded in turning her passion into her profession. Authors pack exciting trends and technological topics into books that make entertaining reading. Dynamic market research into fascinating new products and developments is a top priority at Capscovil. The search is precisely tailored to the author´s story. Capscovil and their authors also support social initiatives and activities: Either by donating profits from book sales or by personally getting involved in specific projects.
© Copyright Capscovil 2012. Capscovil is a registered trademark by Britta Muzyk