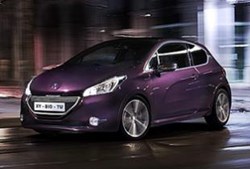 (PRWEB UK) 7 September 2012
Following the recent announcement of the sporty 208 GTi, Peugeot has announced another variant of its popular city cars – the 208 XY.
The new model steers the range further towards luxury and style, with a choice of themed colours and a multitude of visual enhancements and extra features.
It is based on the convcept version of the 208 XY that turned heads at the Geneva Motor Show in March.
Six colours will be offered, including a sumptuous new colour for Peugeot – purple.
The purple theme is carried through to the exterior details, with subtle hints of the colour on the central wheel caps and on the brand's logos.
Adding to the strikingly luxurious ambience are gloss black touches on the central pillar and quarter panel trim, whilst bursts of bright chrome provide a beautifully stylish touch.
The light signature is crucial to the 208 XY's sense of urban class. It utilises LED technology for its daytime lighting and indicators, which enclose the main headlamps – bringing to mind a pair of cool, confident, feline eyes.
Completing the exterior look are the 17-inch, diamond-Anthra Mercure multi-spoke wheels and the dynamic 208 XY logo on the tailgate.
Inside, refinement reigns. 'Light and bright' has been Peugeot's mantra, and this is reflected in the sophisticated 'togetherness' of the interior's design.
Each component has been carefully crafted to accentuate the stylish ambience – from the dashboard decorations to the seat belts and steering wheel insert.
With its cloth and Alcantara seats, and premium-quality mats – overstitched in that crucial purple hue – the 208 XY doesn't disappoint when it comes to quality and luxury.
To finish, Peugeot has installed a suite of metallic embellishments – chrome on the door trims and vents; an aluminium footrest and pedal bracket; a bronze dashboard with a graduated bronze-black decoration.
The passenger compartment is designed to be spacious and ergonomic – everything's already in its right place. So the large touchscreen is placed within easy reach of the steering wheel, which features perforated full-grain leather for definitive driver comfort.
The new, reformed city car will be offered with a choice of two petrol and three diesel engines, all of which offer a refined balance of efficiency and performance.
The 1.6-litre diesel e-HDi 92 FAP version – available with a manual or EGC gearbox – boasts an energy efficiency rating of just 98g/km.
Other options available to customers include a range of trims, dynamic cornering lighting and heated seats.
These options complement the already-advanced standard-fit features in the 208 XY, such as ambient backlighting, a speed limiter, a panoramic glass roof, and dual-zone automatic air conditioning.
For more information about the Peugeot 208 city car range, visit http://www.peugeot.co.uk/ or http://www.peugeot.co.uk/concept-cars-showroom/208-xy/concept-car/
ENDS
Notes to editors:
About Peugeot UK
Peugeot is part of the PSA Group – Europe's 2nd largest automotive producer and is one of the top ten vehicle brands in the world. In 2010 the Peugeot brand celebrated its 200th anniversary.
Its UK subsidiary has its headquarters in Coventry and there are 250 Peugeot Dealerships throughout the UK.
The product portfolio includes electric cars (iOn), petrol & diesel cars (107 Compact, 207, 208, 308, 3008 Crossover, 4007 SUV, 5008 Compact MPV, 508 & RCZ Sports Coupé) and MPV people carriers / vans (Bipper, Partner, Expert & Boxer).
To obtain high resolution downloadable images of the Peugeot range of city cars please log on to the Peugeot Press website: http://www.peugeotpress.co.uk (Newspress passwords apply)
Press Contacts
Andrew Didlick \ +44 (0)24 7688 4309
Andrew.didlick(at)peugeot(dot)com
Kevin Jones \ +44 (0)24 7688 4215
kevin.jones(at)peugeot(dot)com
Steven Fahey \ +44 (0)24 7688 4216
steven.fahey(at)peugeot(dot)com
Craig Morrow \ +44 (0)24 7688 4261
craig.morrow(at)peugeot(dot)com
Janet Brace \ +44 (0)24 7688 4257
janet.brace(at)peugeot(dot)com