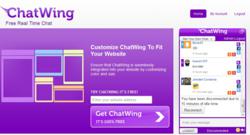 Portland, OR (PRWEB) September 14, 2012
Travel blog is becoming a popular niche online. The assistance and support travel blogs provide to travelers, or even non-travelers can not be denied. Shared experiences are still the best stories to enjoy and learn from. Exchanging and sharing essential travel information will now be more engaging with Chatwing's advanced free chat widget. The chat application can easily be installed in any blog or website. The installation process only takes 20-30 seconds, and online user can immediately use it to interact with other travel enthusiasts globally.
In terms of global communication, this powerful free chat box can allow thousands of users to exchange relevant information or even trivial matters on traveling real time. Travel blogs are becoming one of the most famous niches because of globalization. People are becoming more open and curious about other cultures, beliefs, politics and events. People are starting to realize that—in one way or another—some things connect them. Chatwing's reliable free shoutbox can facilitate interactive chats, plus it provides users with cool emoticons to help them express their feelings more effectively.
For new travel bloggers, Chatwing's advanced and free chat box can help them improve online presence through its social media integration and social sharing capabilities. New travel bloggers can harness the advantages of these newly added features which provide them with the communication leverage they needed. Connecting with online users globally is made simple and possible as long as they have a Facebook or Twitter account. Travel bloggers can also easily share witty and sensible travel discussions to their own Facebook account or Twitter through Chatwing's social sharing feature.
Chatwing's chat widget is highly customizable; travel bloggers can alter almost every aspect of the chat tool to seamlessly fit in to their blogs' themes. These bloggers can even select the shoutbox styles that they want, raising the accessibility rate of the Chatwing chat app.
About Chatwing.com
Chatwing.com specializes in the new field of website chat. Over years, the Chatwing team has introduced live chat box for hundreds and thousands of blogs. The Chatwing application bridges people from many parts of the world, creating global synergy through the Internet. The shout box can be installed in just seconds, and it can be used for varying purposes such as leisure and Internet marketing. It also allows a user to customize the size, color, and name of the widget. Chatwing is 100% free for everyone.