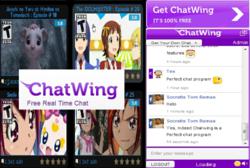 San Diego, CA (PRWEB) September 14, 2012
Sentiments, next episode spoilers and trivia can now be exchanged real time by Anime fans and bloggers through Chatwing's reliable chat widget. Chatwing dev team has introduced an enhanced chat tool the will empower global communication among anime enthusiasts. The enhanced chatbox can allow hundreds to a thousand of anime bloggers to interact real time. There are also available avatars for role playing and cute emoticons to express visitors' feelings.
Chatwing free chatbox has 1000-user capacity and it is also flexible to allow a small-group chat. Through the direct URL link capability, a user can create his username and generate shortlinks. The shortlinks are used to invite selected chatters to start a more intimate chat session. The efficient chat app permits real time global interaction among anime fans making it easier to meet new friends and contacts. Also, providing users the opportunity to widen their horizons and spread the anime spirit.
Anime fans are generally known as people with a very playful disposition and personality. With this information, Chatwing dev team has created the free chat widget to be as highly customizable as possible to aid creativity among users. Online users can alter every aspect of the chat tool to fit it to their personal tastes. One can change the free chat box color, size, background color, and even its title. Furthermore, installation is also hassle-free and can be done in less than a minute.
Anime enthusiast and bloggers can share more information in the shortest period of time and without delay, promising interesting discussions among each other. Chatwing's free shoutbox is also ideal for online marketing purposes or for simply expanding one's social affiliations online.
About Chatwing.com
Chatwing.com specializes in the new field of website chat. Over years, the Chatwing team has introduced live chat box for hundreds and thousands of blogs. The Chatwing application bridges people from many parts of the world, creating global synergy through the Internet. The shout box can be installed in just seconds, and it can be used for varying purposes such as leisure and Internet marketing. It also allows a user to customize the size, color, and name of the widget. Chatwing is 100% free for everyone.