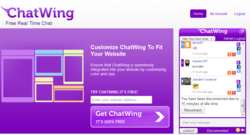 San Diego, CA (PRWEB) September 15, 2012
Chatwing's latest and free chat box is a user-friendly chat tool that has a simple interface like Typepad, built for communication purposes. Chatwing's chat app offers convenience and efficiency to active bloggers and web surfers. Typepad bloggers can fully take advantage of the communication leverage Chatwing chat widget gives by installing it to their blogs. The chat tool's installation only requires few seconds, depending on how detailed a user wanted to customize the chatbox.
Chatwing's free chat widget gives full control to a Typepad blogger by allowing him to alter the chat app's size, color, title, background color, and font size. For online users and bloggers who are familiar with the CSS system, they can modify almost every aspect of the chatbox, following the design guidelines provided by Chatwing.
Typepad bloggers, through Chatwing's free shoutbox, can consistently engage other online users with the same interests. Constant communication with blog readers, acknowledging their suggestions and addressing their concerns real time will definitely boost the blog's online visibility. Interaction with other web surfers will also help expand one's awareness and perspective that will give a Typepad blogger more ideas on what to write about and discuss. Furthermore, meeting new contacts and friends is inevitable; increasing friend's number in Facebook and Twitter will also be hassle-free. These social media contacts will find it easy to join in any chat activities by just registering their existing Facebook and Twitter accounts made possible by the chat app's social media integration feature.
Chatwing chat widget can accommodate a thousand users and can also be used for smaller chat groups through its direct URL link option. Typepad bloggers can choose from direct URL link, pop-up window and regular chatbox form—in whatever way they wanted to appear the chat tool in their sites and in whatever style the chat app can serve their purposes.
About Chatwing.com
Chatwing.com specializes in the new field of website chat. Over years, the Chatwing team has introduced live chat box for hundreds and thousands of blogs. The Chatwing application bridges people from many parts of the world, creating global synergy through the Internet. The shout box can be installed in just seconds, and it can be used for varying purposes such as leisure and Internet marketing. It also allows a user to customize the size, color, and name of the widget. Chatwing is 100% free for everyone.