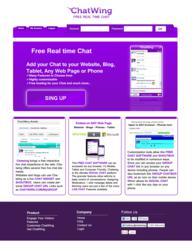 Boston, MA (PRWEB) September 15, 2012
Chatwing Development Team, a company specializing in creating handy blog applications, has decided to step up in competition by launching a chat widget that has three form factors and other useful features. These three form factors of Chatwing can be accessed by users in the shoutbox dashboard. All three form factors have varying strengths and uses. Other features introduced in the Chatwing chat app are social media options, quick installation, conversation control, and unlimited chat box creation.
The most common form factor of the Chatwing free chat box is the 'box' style. This embeds the Chatwing app in a micro-chatroom form wherein other people can visit and engage in lively conversations. To start chatting, users need to log in with their social media accounts. They can also log in as Guests and utilize Chatwing's collection of avatars with 'pop' references. The second form factor is the pop-up window; this saves valuable blog space, especially if the user wants to add many widgets in his blog. Instead of the chatroom, the Chatwing app can be embedded as a regular chat button. Once a visitor clicks the button, he will be taken in a separate shoutbox window.
The newest form factor has contributed to the overall rank of Chatwing chatbox. This style is known as the direct link option. With this feature, the user can create his unique username and shortlink. He can then send the shortlink in his Facebook, Twitter, or any social media account. The direct link option's purpose is to turn the Chatwing app mobile-friendly and handy in most instances. It also initiates private group chats, useful for people who only want to talk to selected individuals. Based on the observation of several bloggers, this feature has raised their blogs' visibility by more than 80%.
One of Chatwing's main goals is to create a free chat widget that will enhance the field of web communication by a notable percentage. The Chatwing developers believe that this can only be achieved by making a chat app that will be useful to all websites. To attain this objective, the Chatwing team is constantly planning for new upgrades that can occur within months.
About Chatwing.com
Chatwing.com specializes in the new field of website chat. Over years, the Chatwing team has introduced live chat box for hundreds and thousands of blogs. The Chatwing application bridges people from many parts of the world, creating global synergy through the Internet. The shout box can be installed in just seconds, and it can be used for varying purposes such as leisure and Internet marketing. It also allows a user to customize the size, color, and name of the widget. Chatwing is 100% free for everyone.