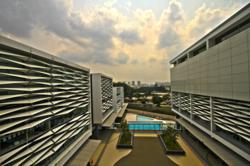 "Stamford is the school the rest of the world visits, to see the future of education today. Its features and facilities are second to none. The physical environment, education and teaching standards sets the school apart," Mr. Kay said.
Singapore, Singapore (PRWEB) September 08, 2012
The most advanced school in the region, Stamford American International School (Stamford) has commenced classes with its first crop of over 1,000 students. The $300 million 'super' campus is the ultimate learning environment for children. It is the largest K-12 education construction project in the Asia Pacific region.
Stamford's facilities and features, including state of the art technology, establish the school as the benchmark for international schools around the world.
The school was built by Cognita, one of the world's largest K-12 education providers, with more than 60 schools across the UK, Europe and Asia.
Mr. Malcolm Kay, Superintendent of Stamford, said the school is the perfect environment for preparing children for entry into the world's most prestigious universities.
"Stamford is the school the rest of the world visits, to see the future of education today. Its features and facilities are second to none. The physical environment, education and teaching standards sets the school apart," Mr. Kay said.
The school was recently visited by the U.S. Deputy-Secretary of Education, Mr. Tony Miller, the second highest ranking official in the U.S. Department of Education and the Chief Operating Officer of the U.S. Department of Education.
During his visit, Deputy Secretary Miller said, "Singapore and the U.S. share a deep cultural belief in the importance of education. Both nations understand that a country's economic security depends on the skills and knowledge of its workers. It is a privilege to visit such an extraordinary school showcasing American educational values overseas."
Stamford was awarded the site by a Government committee chaired by the Singapore Economic Development Board in 2008. The new facility, centrally located at Upper Serangoon Road, accommodates 1,500 students aged between two and 18 and will expand to 3,000 students on completion of the second phase in 2014. Stamford will be officially opened in October 2012.
WORLD CLASS CAMPUS FEATURES
Key features of the school include:

Singapore's first Interactive Learning Environment, where guest lecturers and teachers from around the world can interact with students. Teachers will be able to give lectures from anywhere in the world e.g. in ancient Egypt from the base of the Great Pyramids
Classes where Kindergarten kids through to Grade 5 each have their own iPad for learning about their world, while older students each have their own MacBook
A Golfing Excellence Centre complete with computer swing analysis and putting greens, with tuition offered under the guidance of a golf pro
A canteen with restaurant quality food created by Singapore's Celebrity Chef Emmanuel Stroobant
A 21st century Media Resource Centre - beyond the traditional library, this centre is up to date with the latest traditional as well as technological resources
State of the art science wing and computer laboratories
World-class sporting facilities - two swimming pools, basketball courts, an outdoor field for American football, rugby and football, plus an indoor gym and commercial standard fitness centre
Comprehensive art facilities - dedicated spaces for art, theatre, dance and music, including areas for exhibiting of fine arts and hosting of performances
Specially designed Early Years/Nursery facilities, with its own enclosed secure playground
Indoor and outdoor meeting spaces, including student breakout areas
STAMFORD IS FIRST IN INTERNATIONAL EDUCATION
Stamford has already set new standards for international schools in Singapore and globally. This includes being a pioneer in a range of educational areas. Stamford is the first international school to:
Offer Daily Mandarin and Spanish language instruction
Offer IB & American curriculum
Provide a social development program as part of the curriculum – Second Step & Step Ahead
Provide Nursery care from two years old
Implement a dedicated 1:1 iPad for KG2 to Grade 5
For More information please contact:
Kate Reynolds
279 Upper Serangoon Rd.
+65 6602 7247
kate.reynolds (at) sais (dot) edu (dot) sg
ABOUT STAMFORD
Stamford American International School (Stamford) is the new benchmark for excellence in international education in Singapore. With its experienced team of educators, cutting-edge facilities and rich cultural diversity, there is no better way to prepare students for a competitive and fast changing world.
Stamford's academic curriculum prepares students for entry into the world's top universities. Stamford is the first school in Singapore to offer students both the International Baccalaureate (IB) Diploma and the American Advanced Placement (AP) Diploma – giving students an international experience with an American foundation. Stamford also excels in the teaching of languages offering Mandarin and Spanish classes on a daily basis, beginning when students are as young as teo years old.
Stamford has the most experienced and qualified team of educators at international schools in Singapore. Superintendent Malcolm Kay is the most experienced IB educator in Singapore, with more than 30 years experience. Together with his senior team, Mr. Kay has helped more than 5,000 students enter prestigious universities including Oxford, Cambridge, Harvard, Yale and UCLA.
The faculty is one of the most highly qualified of any international school in the world: 55% have a Master's Degree including 100% of the Middle School teachers. 100% of the faculty is IB trained and more than 80% have international teaching experience.