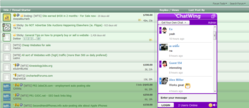 Dallas, TX (PRWEB) September 15, 2012
In a general sense, there are thousands of niches that can be used in Lefora today. Lefora is one of the most famous forum builders visited by many people regularly. One of the fast-growing niches of Lefora, or any community in that matter, is lifestyle. This is based on the strategic online research conducted by the Chatwing Development Team. Chatwing's developers have used this research as basis for the launching of their latest chat widget in the Lefora community.
Chatwing's free shout box is capable of improved global connection between website owners and their visitors. Alternatively, the Chatwing app can also be used for blog marketing, online marketing, and brand awareness campaigns. Chatwing's developers have designed the application in a very simple way that it can be understood by many; the simplicity has paid off, boosting Chatwing's overall popularity. Social media is also an important part of the Chatwing chatbox. With this option, users can now log in with their social media accounts, increasing the chance for social network expansion. Also, Chatwing allows users to add unlimited chat boxes and moderators.
The Chatwing team has developed a dynamic strategy that will pit the free chat box in a series of upgrades that will run for many months. This will ensure that Lefora forum makers will be able to use the chat application at an improved efficiency. The Chatwing team is also planning to introduce the chat app in other blogging communities where online communication is highly needed. The team is also reaching out to public groups in social networking sites.
To make Chatwing's strategy realistic, the dev team will apply different online methods. Apart from that, the team currently maintains a Facebook page where they discuss the important points of the Chatwing shoutbox. Updates are also posted in the Facebook page, especially if there are important events that will occur in a given month.
About Chatwing.com
Chatwing.com specializes in the new field of website chat. Over years, the Chatwing team has introduced live chat widget for hundreds and thousands of blogs. The Chatwing application bridges people from many parts of the world, creating global synergy through the Internet. The shout box can be installed in just seconds, and it can be used for varying purposes such as leisure and Internet marketing. It also allows a user to customize the size, color, and name of the widget. Chatwing is 100% free for everyone.