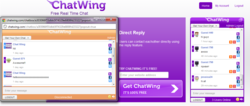 Miami, FL (PRWEB) September 15, 2012
According to global statistics, millions of dollars are being invested in home care, from different cultures and nations. In Lefora community alone, the home care niche continues to grow, attracting more users and visitors in a regular basis. Famous home care topics are inexpensive but quality-ensured furniture, green living, cost-cutting home improvements, and basic DIY tips. These factors are parts of Chatwing's continuous online research in Lefora. Recently, the Chatwing team has launched a multi-functional chat box that can enhance online communication by a significant percentage.
Forums about home care usually have high visibility rates, but these may vary because of the growing competition in communities. Chatwing's free chat widget not only presents a chance for a forum to 'wedge' through competition, but can also change the way forum makers communicate with visitors. The Chatwing chat app can also be customized according to the preferences of its user.
The Chatwing chatbox has been subjected to a series of platform experiments and upgrades for more than two years. These developments consumed hours of tireless work, but the results were undeniable. Chatwing's main premise is 'online communication in simple and easy ways.' The developers have committed to this by making the free shout box as reliable and user-friendly as possible. The Chatwing app can be used for various communication purposes, and it can also be installed to any blog or website because of its simple programming language.
The Chatwing team is recently maintaining a Facebook page and series of blogs available to many people. Through these mediums, the Chatwing team can reach hundreds of people everyday, and the importance of the shoutbox can be widely recognized. Up to date, people from many forum niches are now relying on the potential offered by the Chatwing chat app.
About Chatwing.com
Chatwing.com specializes in the new field of website chat. Over years, the Chatwing team has introduced live chat widget for hundreds and thousands of blogs. The Chatwing application bridges people from many parts of the world, creating global synergy through the Internet. The shout box can be installed in just seconds, and it can be used for varying purposes such as leisure and Internet marketing. It also allows a user to customize the size, color, and name of the widget. Chatwing is 100% free for everyone.