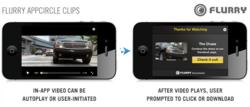 Flurry AppCircle Clips is a top acquisition channel for Gaia Interactive to build high quality app audiences.
San Francisco, CA (PRWEB) September 08, 2012
Flurry, the leading mobile app measurement and advertising platform, today announced that it served a record of more than 100 million completed video ad views across its AppCircle ad network during the month of August. The company reached this milestone only a year after making AppCircle Clips video ads available for the iOS platform. Flurry also announced today the immediate availability of AppCircle Clips on Android for both publishers and advertisers.
AppCircle Clips allows advertisers to reach mobile app users with TV-style trailers for brand campaigns and app traffic acquisition. Advertisers can efficiently reach consumers at scale with rich, engaging video ads using a host of advanced targeting options including demographics, geography, device, personas and more. For publishers, advertisers' ability to reach targeted, high quality audiences is delivering premium eCPMs.
"Video has established itself as an important format for mobile advertising," said Simon Khalaf, Flurry president and chief executive officer. "The unprecedented success we're seeing for in-app video advertising demonstrates how smartphone and tablet consumer behavior closely mirrors that of television viewing, where consumers accept commercials in exchange for their content experience."
Using Flurry AppCircle, Gaia Interactive found that engaging consumers with immersive video ads attracted higher quality consumers compared to static banners. Consumers acquired through AppCircle Clips used the application 43% more often and 23% longer per session than their average user. For more about their experience, please download the Gaia Interactive case study.
"Flurry AppCircle Clips is a top acquisition channel for Gaia Interactive to build high quality app audiences," said John Dionisio, Gaia Interactive director of marketing and business development. "AppCircle Clips campaigns deliver audiences we care about, while exceeding all user quality performance metrics we track versus our other acquisition channels."
Effective immediately, developers and publishers on the Android platform can now use Flurry AppSpot to serve video ads to earn top revenue, with eCPMs consistently over $10. Android advertisers can now create trailers for their Android apps and promote them on the Flurry AppCircle network to reach targeted audiences as well as drive high quality installs for their apps.
Both publishers and advertisers can get started by creating an account at http://www.flurry.com.
About Flurry AppCircle
Flurry AppCircle helps app developers and advertisers reach, engage and acquire mobile app users. Flurry AppCircle leverages consumer insights that Flurry Analytics gathers from more than 600 million mobile users per month to power advanced targeting and deliver more relevant advertising. App developers and advertisers using Flurry AppCircle can reach 250 million mobile users with app recommendations, video and rich media ads to meet any marketing objective.
About Flurry
Flurry helps companies build, measure, advertise and monetize mobile applications in the new app economy. Flurry operates the industry-leading mobile app measurement and advertising platform powered by app usage insights from more than 600 million iOS, Android and other devices per month. The company is venture-backed with offices in San Francisco, Seattle, New York, London and Mumbai.