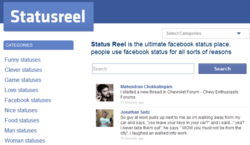 Seattle, WA (PRWEB) September 16, 2012
Crime City, one of the famous strategic games in Facebook, is still gaining a lot of followers despite the arrival of newer games. According to Facebook statistics, Crime City has gathered many players because of its dynamic and interactive gaming style. Every few months, the game will often introduce new gaming elements and locations to explore. Sensing the largeness of Crime City community, the Statusreel team has launched a Facebook status widget that can help players build their own in-game empire.
The Statusreel application works in a basic premise: visitors just need to input a series of words about their agenda. For example, Crime City players can type 'Crime City' directly, and the Statusreel feed will display the statuses of Facebook users who have used the same words. In this way, the searcher will be able to send out invitations to these Facebook users. Avid Crime City players often create groups as 'inviting grounds' for players who are also looking forward in having successful in-game empires.
Statusreel users are always improving and checking out new words, based on the observation of the dev team. This simply means that Statusreel's Facebook search option can help in many online aspects, such as communication and even social media marketing. In the case of gamers, the Statusreel application can help bring new probabilities and gaming experiences.
Statusreel and its team of talented developers are always looking for trendy ways in discovering the market, especially in the premise of Facebook games. Crime City is just a single element of the Facebook gaming community, but it is a fast-growing niche that is built for everyone. In the coming months, the Statusreel team will continue introducing more backend upgrades to ensure the stability of the Facebook widget.
About Statusreel
Statusreel.com is a product designed to give end-users an instant amount of Facebook statuses in real-time. Users can search via keyword or by subject matter to see what chatter is taking place publicly on Facebook and the web. Statusreel also allows websites and blogs to embed a Facebook status widget directly into their site. Statusreel is a web-based Facebook tool that is 100% free.