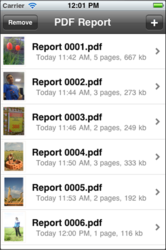 I can take photos, add comments and email them right away. This is useful for business reports too. The program has amazing potential!
Alexandr Bukurov, Bitek Inc, CEO.
(PRWEB) September 09, 2012
The fCoder Group is releasing PDF Report -- a new program to generate reports on an iPhone using your photos and comments.
PDF Report is truly versatile document-creation software, which can be used in:
Advanced shopping.
Often people find themselves engaged in tasks such as kitchen shopping which require the comparison of complete environments in distant locations. With PDF Report, this is no longer a stressful situation for the technologically-enabled shopper. By simply snapping a photo of the kitchen, consumers can easily fashion a professionally formatted PDF file complete with information they enter about the model number, price, comments, and reactions they had to the design. This PDF creation software will almost certainly revolutionize the industry, empowering shoppers to make informed decisions with all of their choices in a single, standardized format so they can seat themselves with their companions and deliberate the options at length from the comfort of their own home.
Simplify communications.
Memorizing new names at a new job can be a major stressor for new employees who wish to make a good impression at their new business. However, PDF Report again shows its incredible versatility by quickly and easily allowing people to snap photos of their peers, creating a compact PDF reference document that can be accessed directly from their mobile phone, increasing productivity in the office by allowing these individuals in transition to focus on their work.
Travels logging.
Returning from a vacation is a period of great upheaval, a fact which greatly inhibits the use of social media in the period directly following return. Many vacationers simply find that they do not have the time to organize and distribute scores of commented photographs from their trip. PDF report bridges this gap and allows these people to organize and tag these photos as they are taken, leaving them with a comprehensive PDF document that they can easily and quickly send to their friends and family as soon as they arrive at home.
What customers have said about PDF Report:
Alexandr Bukurov, Bitek Inc, CEO.
It's really something to behold. I can take photos, add comments and email them right away. This is useful for business reports too. I can see how my sales agents are doing – whether they've been doing office visits – and realtors, couriers… the program has amazing potential!
Sergey, Donaktiv Bank, CSO.
Exporting images to PDF is a real lifesaver! You can make multipage documents as well, or photograph a transfer order and send it by email. PDFs are better than JPEGs – they're more convenient and tamper-resistant.
Pricing.
PDF Report is available on the App Store for just $2.99. Minor updates and future releases are accessible for free for all customers of this application.
About fCoder Group, Inc.
fCoder Group, Inc. provides robust digital document and image processing applications to corporations, educational institutions, government agencies and individual consumers worldwide. The company, which was founded in 1998 and is headquartered in Alexandria, Virginia, designs and develops software solutions within its three divisions – document imaging, image processing, and digital photo editing.