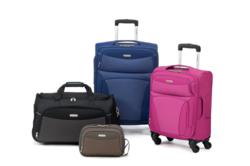 gives the facility to maximise your volume
(PRWEB UK) 10 September 2012
The Samsonite Suspension brings with it a unique idea by well known manufacturer Samsonite to create the Integrated Wheel System (patent pending). This gives an extra 10% in the packing volume still allowing this suitcase to meet the 20cm check-in guidelines This working idea has pushed the back panel of the suitcase and integrating the wheels which is the area that gives the facility to maximise your volume.
Other beneficial features on this case would be the side and top handles for easy manoeuvring making it extremely light because of the B-Lite technology of integrated handles. The extra strength the design brings would be because of the resistant fabric decked with thick external piping and wide zippers. The cross straps on both the top and bottom compartment of the case allows your items to keep secure while in transit.
The range comes in options of Duffles, Beauty cases, Toilet kits, Duffles on wheels, Uprights (2wheels) and Spinners (4 wheels). The bags are designed with TSA locks for worry free travel to the USA.
With every Samsonite bag, customers can be guaranteed durability. The look of quality follows and identifies Samsonite's cases among other brands.
Luggage Superstore established site is in West Kingsdown, Kent. Their aim is providing competitive prices of the highest quality luggage and top calibre Customer Service for online luggage shopping.
Trina Chee-a-kwai
Luggage Superstore
01474 854666
Email information