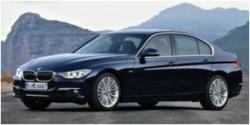 London, UK (PRWEB UK) 7 September 2012
There will be a new entry point 1 Series with the 114d and also a new 316i, the first petrol EfficientDynamics model and three new engines for the 3 Series Touring, as well as the next generation of Professional Navigation.
The new BMW 114d 1.6-litre version of the four-cylinder diesel engine with TwinPower Turbo technology has a maximum output of 95hp with a peak torque of 235Nm and accelerates from zero to 62mph in just 12.2 seconds, going onto a top speed of 115mph. This sporting performance is paired to an impressive average fuel consumption of 65.7mpg and CO2 emissions of just 112g/km.
In order to achieve this impressive performance, the new BMW 114d is fitted as standard with a suite of BMW EfficientDynamics technologies, including Brake Energy Regeneration, Optimum Shift Indicator, Auto Start-Stop, electromechanical power steering, Active Aerodynamics and reduced rolling resistance tyres. It also comes with ECO PRO mode as standard helping to maintain a relaxed, fuel-efficient driving style. The BMW 114d is available to order now on both the 3-door and 5-door variants, with production commencing from November 2012, but prices are to be confirmed.
From November the BMW Saloon will be available with its most efficient petrol engine to date, the BMW 320i EfficientDynamics, a 1.6-litre TwinPower Turbo petrol engine, which generates 170hp and 250Nm of torque, yet delivers 53.3mpg and emits just 124g/km CO2. This efficient engine goes on to take the car from zero to 62mph in just in 7.6 seconds and as well as the 320i EfficientDynamics, the new BMW 3 Series Saloon now has a new entry point into ownership with the introduction of the 316i.
Powered by a 1.6-litre four-cylinder petrol engine with TwinPower Turbo technology, the 316i produces just 134g/km CO2 whilst returning 47.9mpg. These efficiencies have not compromised the performance of the car with the 316i creating 136hp with a maximum torque of 220Nm. Fitted as standard with a six-speed manual gearbox, the new BMW 316i Saloon accelerates from zero to 62mph in 8.9 seconds, and on to a top speed of 127mph. It's £22,850 for the 316i ES Saloon, while the BMW 320d EfficientDynamics Saloon is from £25,730 and both will be on available from November.
Following the launch of the BMW 3 Series Touring on 22 September three additional engines will be available, the 320i, 318d and 316d, increasing the range to two petrol and four diesel engines. The 2.0-litre petrol engine driving the new 320i Touring generates 184hp and 270Nm torque using BMW TwinPower Turbo technology, pushing the car from zero to 62mph in 7.5 seconds and onto a top speed of 145mph.
With CO2 emissions of just 152g/km and fuel consumption of just 60mpg, on the combined cycle, or 145g/km CO2 45.6mpg when fitted with the optional eight-speed automatic transmission, the 320i Touring blends effortless performance with outstanding economy.
Both the BMW 318d Touring and BMW 316d Touring use a 2.0-litre four-cylinder diesel engine with BMW TwinPower Turbo technology. In the new BMW 318d Touring, the engine produces a maximum torque of 320Nm and 143hp, while in the BMW 316d Touring it gives 116hp and 260Nm torque, ensuring a smooth power delivery.
The BMW 318d Touring has a top speed of 130mph, accelerating from zero to 62mph in just 9.2 seconds while the BMW 316d Touring accelerates in 11.2 seconds from a standing start to 62mph and reaches a top speed of 124mph. This performance doesn't come at the cost of efficiency, with both the316d and 318d Touring models emitting just 123g/km CO2 whilst returning 60.1mpg on the combined cycle.
Both the 316d and 318d Touring will be available from November, priced from £26,180 for the BMW 316d ES Touring and £28,280 for the BMW 318d SE Touring.
The new generation of BMW Professional Navigation system, available from launch in the BMW 3 Series Touring, will now also be available in the BMW 3 Series Saloon from November from just under £2,000.
You can keep up to date with the latest business car news with us every day and check out the company car comparisons: http://www.businesscarmanager.co.uk/category/cars/car-comparison/ before you place an order.