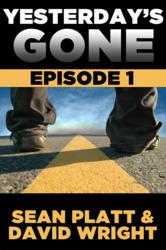 Now Wright, and co-author, Sean Platt, are sharing their "To be continueds..." with thousands of readers each month.
Cincinnati, OH (PRWEB) September 08, 2012
Self-proclaimed Kings of the Serial, Sean Platt and David Wright, are crediting Amazon with their success, and the resurgence of serialized fiction.
When author David Wright was in middle and high school, he used to write serialized stories and pass them to classmates, loving the looks in their eyes when they got to the end and saw the words, "To be continued..."
Now Wright, and co-author, Sean Platt, are sharing their "To be continueds..." with thousands of readers each month.
Platt and Wright decided to roll the dice on their dream one year back, believing that e-book serials would take off since they were in direct alignment with modern readers' consumption behavior. The serial novel had fallen out of favor in recent years, and few mainstream authors had made a case for it since Stephen King's The Green Mile. Now, a year later, the writing duo has found stunning success with their horror and science fiction serials, and are crediting Amazon for making it all possible.
"We wanted to serialize back in 2008," Platt said, "and started with an awkward attempt to publish our first novel, the vampire book Available Darkness, in installments. But it was next to impossible for an unknown author to sell a serial to a publisher. Last year we saw what was happening with e-books and how Amazon was changing digital publishing, allowing authors to not only find their audience, but build it. We saw this as an opportunity to see if we could also build an audience for serialized fiction."
Both Platt and Wright have been fans of serialization since their youths spent pouring through the pages of comic books. As they grew older, serialized television shows such as The Wire, The Sopranos, Dexter, The Walking Dead, Battlestar Galactica, Game of Thrones, Mad Men, and several others replaced comics as their addictive inspirations.
"We love how HBO, Showtime, and AMC have revolutionized TV with high quality serialized fiction. You can pretty much count on those networks delivering a new episode every week. That's what we wanted to do, a new episode per week. We wanted to be the HBO, Showtime, or AMC of the Kindle generation," said Wright.
The authors decided to treat their fiction like TV shows, offering regular installments ranging from 15,000 - 25,000 words each, which they called "episodes." Six episodes are then collected in a single book and offered as a "season."
Things didn't take off right away, when they released Yesterday's Gone's first season last summer at the rate of an episode every few weeks.
While they were making money, it wasn't enough to support them both. They had two options: they could either give up on serials and work their day jobs while taking longer to write regular-length novels, or they could double down on serialization.
In January, 2012, they decided to dedicate their days and nights to making their writing dreams come true. They decided they'd become Kings of the Serial, a tongue-in-cheek nod to Howard Stern's self-appointed "King of All Media" title. But their goal was serious -- to be pioneers in a format that was bubbling already for them, and ready to erupt into the mainstream.
They decided to work 60-70 hours a week each to write and release one episode (or short story) every week, just like the TV networks.
"The key was becoming a habit for our regular readers," said Platt. "It wasn't enough to have killer cliffhangers. We weren't going to be the e-book HBO if we didn't deliver consistency too. We chose Tuesday as our publishing day, just like most music and DVD's, and practically threw a party when we started seeing reviewers saying things like, 'Tuesday is the new black.'"
Their gamble has paid off big.
Thanks to the weekly release schedule, utilizing Amazon's KDP Select program to offer episodes for free, and being mentioned on the popular website Pixel of Ink, sales took off in January. The Yesterday's Gone series has gone on to earn more than 200 five star reviews, with the first season appearing many times on Amazon's Top 100 Reviewed Fiction Books list.
One year, and countless hours later, the authors are making a living doing what they love, writing serialized fiction.
"We couldn't have done this without Amazon," said Wright. "They've made our writing dreams come true. Amazon, and of course, the awesome readers who get what we're doing and support us week in and week out."
Platt and Wright believe that Amazon, word-of-mouth, and their interactions with readers via email and their fiction author's fanpage have helped them in a way that never would have been possible for self-published authors just a few years ago.
"There's never been a better time to be an author," Platt said. "We're so thankful to have this opportunity to write not just for the readers, but also write the next chapters of our lives. And the fact that Amazon has just announced that it's now publishing serial fiction, only reaffirms our decision. Serial fiction is going to take off in a big way and Amazon is going to be at the forefront of another digital publishing revolution!"
Platt and Wright aren't slowing down on their quest for their crowns – continuing to publish new books every Tuesday, with their lineup loosely outlined for the next 18 months.
They just wrapped their third season of Yesterday's Gone, and in the coming months will be publishing second seasons of their other popular series, WhiteSpace, ForNevermore, and Available Darkness, in addition to a new zombie series, Z 2134, which the duo describes as The Hunger Games meets The Walking Dead.
As for the impact Amazon Kindle Serials will have on the duo, Wright is hoping for good things.
"Any time serials get positive press, it's a good thing for all serial authors," Wright said. "I wasn't the only one sitting in the back of class dreaming for this day and this opportunity to write serials for millions of readers. Now Amazon is making it possible."
Platt and Wright are the self-proclaimed Kings of the Serial, who are spending 2012 releasing a book per week, spanning across several serials (including the smash hit post-apocalyptic serial Yesterday's Gone, WhiteSpace, ForNevermore, Available Darkness, and collections of their Twilight Zone-inspired Dark Crossings short stories.
Read more about their book-per-week quest at CollectiveInkwell.com.