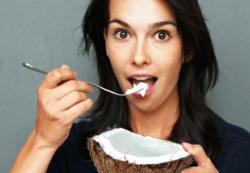 Charlotte, NC (PRWEB) September 10, 2012
Dr. James Wells of South Charlotte Dentistry is experimenting with a new product to treat tooth decay in his South Charlotte, NC office. Patients are excited about a new study that suggests the eradication of tooth decay could be possible in the near future. The Society for General Microbiology's recent autumn conference, held at the University of Warwick, England, included presentations by researchers from the Athlone Institute of Technology in Ireland. The researchers presented findings that may indicate coconut oil is beneficial in the eradication of tooth decay.
Coconut oil works as a natural antibiotic in humans if it is ingested. The researchers believe that adding coconut oil to dental products would potentially help eradicate tooth decay by helping the body fight bacteria.
The research was led by Dr. Damien Brady, whose team set out to find out if the coconut oil would have an effect on the bacteria Streptococcus, which is present in virtually all human mouths. It is the Streptococcus that is responsible for all instances of tooth decay in humans. These bacteria break down sugars consumed and produce acid that wears out teeth. The wearing, in turn, becomes decay.
The researchers tested coconut oil in its natural state, but also added enzymes that allowed it to be tested during digestion. The digested coconut oil had positive effects on the patients. It managed to stop Streptococcus from reproducing in the mouth.
Dr. Brady was inspired to begin this study after another recent study had shown that enzyme-modified milk could be used to reduce the amount of Streptococcus that would bind to teeth. This milk study made Dr. Brady eager to test the effects of other foods on the production of Streptococcus.
The researchers have plans to extend the study by observing the effects of the coconut oil at a molecular level. There is also some interest in studying the effects of the coconut oil on other bacteria to see how other diseases may be combated with coconut oil. Prior to this study researchers had already found that coconut oil completely eradicates the yeast that causes thrush.
From the doctor in charge of the study, Dr. Brady, "Dental cavities are a commonly overlooked health problem affecting 60-90% of children and the majority of adults in industrialized countries. Incorporating enzyme-modified coconut oil into dental hygiene products would be an attractive alternative to chemical additives, particularly as it works at relatively low concentrations. Also, with increasing antibiotic resistance, it is important that we turn our attention to new ways to combat microbial infection."
The researchers are clear to note that it is only the enzyme-treated coconut oil that produces the desired effects of reducing tooth decay. Adding any coconut oil purchased at the grocery store to dental health products will likely have no effect on a person's oral health. In order to have the benefits of the coconut oil as outlined in this study, we must wait until the enzyme-treated oil is released for sale or added to dental products. In the meantime regular brushing and flossing are the best ways to combat tooth decay!
If you are worried about problems with tooth decay, don't hesitate to call Dr. James A. Wells at South Charlotte Dentistry at 704-759-0908 for an appointment. Visit the website at http://www.south-charlotte-dentistry.com.